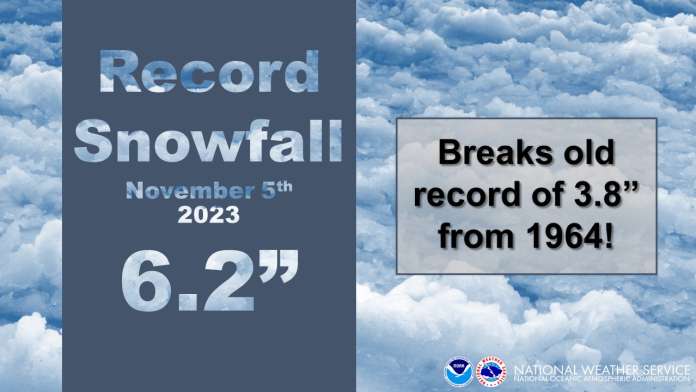 Anchorage received its first significant snowfall of the 2023/2024 winter season on Sunday, November 5. With more than six inches of snow accumuling, the National Weather Service (NWS) reported Anchorage set a new record for snowfall on that date, nearly doubling the previous record of 3.8 inches set in 1964.
Snow continued falling on Monday, November 6, adding more than an inch to the existing snowpack, NWS meteorologist Christian Landry told Alaska Public Media.
"It seems to be a fairly consistent pattern across Anchorage," Landry said.
The snow made driving conditions hazardous on the two days. Anchorage police reported 28 calls for vehicles stranded due to snow on Sunday, and 27 reported accidents, nine with injuries. On Monday the accidents and strandings continued to pile up along with the snow, with police reporting an additional 26 vehicles in snow related accidents or being unable to move due to snow.