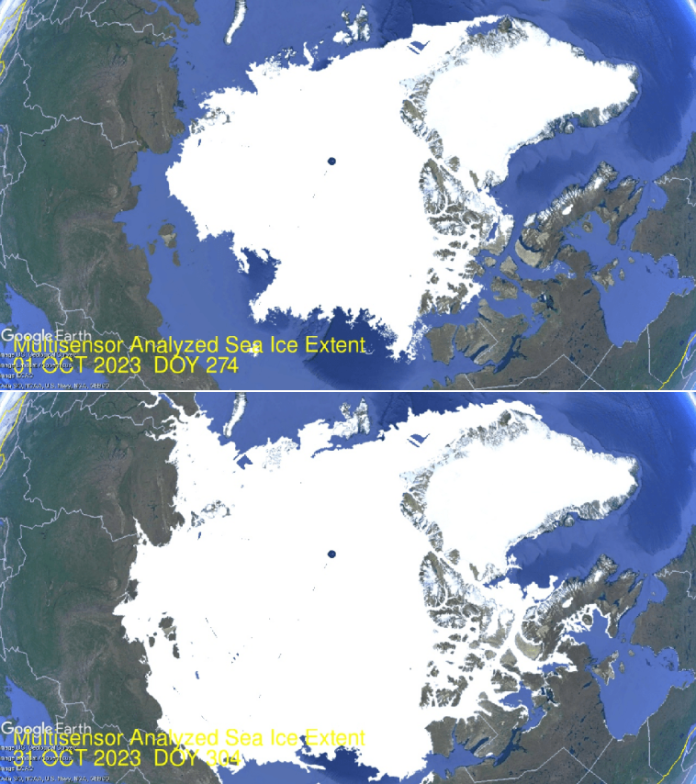 Image above: Comparison of satellite derived Arctic sea ice extent for October 1st to 31st .
The minimum 2023 Arctic sea ice extent occurred on September 25, according to the National Snow and Ice Data Center (NSIDC):
Arctic sea ice has likely reached its minimum extent for the year, at 4.23 million square kilometers (1.63 million square miles) on September 19, 2023, according to scientists at the National Snow and Ice Data Center (NSIDC) at the University of Colorado Boulder. The 2023 minimum is ranked sixth lowest in the nearly 45-year satellite record.
Since then, there has been a rapid and massive gain in Arctic sea ice extent. According to Science Matters, it almost doubled in just one month:
This year October added 3.95M km2 from end of September compared to an average October increase of 3.45M km2.  As of yesterday, NH ice extent is 368k km2 above average and nearly 600k km2 greater than 2007.