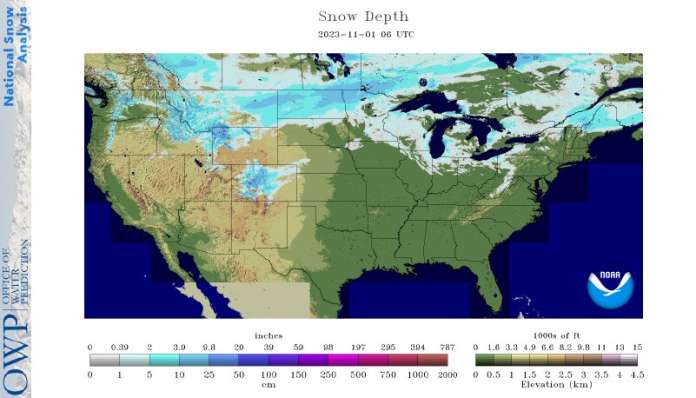 Image above: Snow cover map for November 1, 2023 from the National Weather Service, National Operational Hydrologic Remote Sensing Center.
On Wednesday, November 1, 2023, snow covered almost 18 percent of the lower-48 U.S. states, a new record for the date, reports the Washington Post.
"On Wednesday morning, snow was on the ground in 17.9 percent of the Lower 48, according to the National Oceanic and Atmospheric Administration," wrote the Washington Post. "Locations from eastern Minnesota to western New York saw snow on Halloween — even enough to shovel in Minneapolis; Milwaukee; Muskegon, Mich.; and Buffalo. Areas downwind of Lakes Erie and Ontario were also blanketed early Wednesday, including Cleveland and Akron, Ohio, while several inches were anticipated along some of the west-facing slopes of the Appalachian Mountains."
Multiple storms over the past couple of weeks delivered snow blowing in from the western United States and Canada, beginning in the Mountain West, across the Northern Plains, and across the Great Lakes region, and finally delivering snow and cold to the Northeast coast.
Snow coverage was not the only winter indicator setting records at the end of October and into November; a number of cold for the date temperature records fell as well.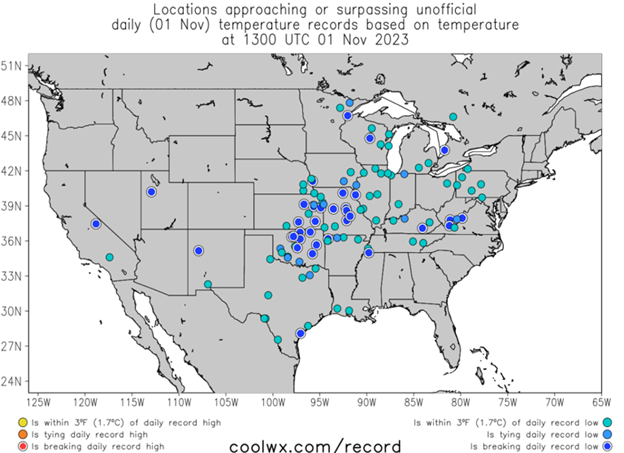 "The current abundance of snow was made possible by a powerful early-season outbreak of cold air. It brought a handful of record lows in the northern Plains on Halloween and in areas to the south and east of there on Wednesday morning," the Washington Post reported. "About 119 million Americans began Wednesday at or below freezing; the temperature averaged over the Lower 48 was 31.3 degrees — more than 10 degrees below average."
Daily cold temperature records were set even in locations across the deep south, including in cities and towns in Oklahoma and Texas. Mt. Leconte, Tennessee, for example, recorded a low of 8℉, its earliest single digit low on record.