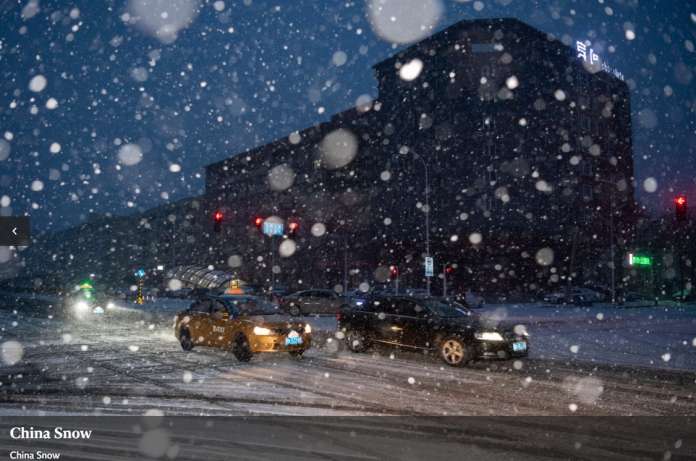 Image above: Northeast China sees first major blizzard this season and forecasters warn of record snowfall. Image via Xinhua News Agency
Various media outlets are reporting that a sustained low pressure system carrying a large cold air mass delivered extremely cold temperatures and heavy, possibly record setting, snow across Mongolia and Northeastern China.
China's National Meteorological Center said it expected the snowfall to "breakthrough the historical records."
Authorities closed schools and highways, and cancelled flights across a large swath of Northeastern China, including in the provinces of Inner Mongolia, Heilongjiang, Jilin, and Liaoning.
More than 30cm of snow fell in these provinces over two days, reports The Guardian, accompanied by "unseasonal" cold temperatures, temperatures ranging from 10℃ to 20℃ below the normal average for this time of year. Shenyang, for example, reported daytime temperatures dipping below zero and nighttime temperatures falling to -12C.
Video footage from China's state broadcaster, CCTV, showed delivery trucks stranded in a nearly mile-long line outside of Harbin, the capital of Heilongjiang province, according to The Independent.
In Mongolia the news arising out of this cold weather system was even more dire. News.mn writes that the country's National Emergency Management Agency reported that eight women herders died in central Mongolia as a result of becoming trapped outdoors during the weekend's extremely low temperatures and heavy blowing snow.
The winter storm also created blizzard conditions, compromising the safety of roads on November 4 and 5, across a wide swath of Mongolia.
"Snow and blizzards swept the western provinces of Zavkhan and Uvs and central parts of the country including the national capital Ulaanbaatar, and provinces of Arkhangai, Uvurkhangai, Tuv and Bulgan, with wind speeds up to 20 meters per second," said News.mn. "The southern provinces of Dundgovi and Dornogovi, the eastern provinces of Khentii and Sukhbaatar, and the northern provinces of Khuvsgul and Darkhan-Uul also experienced strong winds and snow storms."