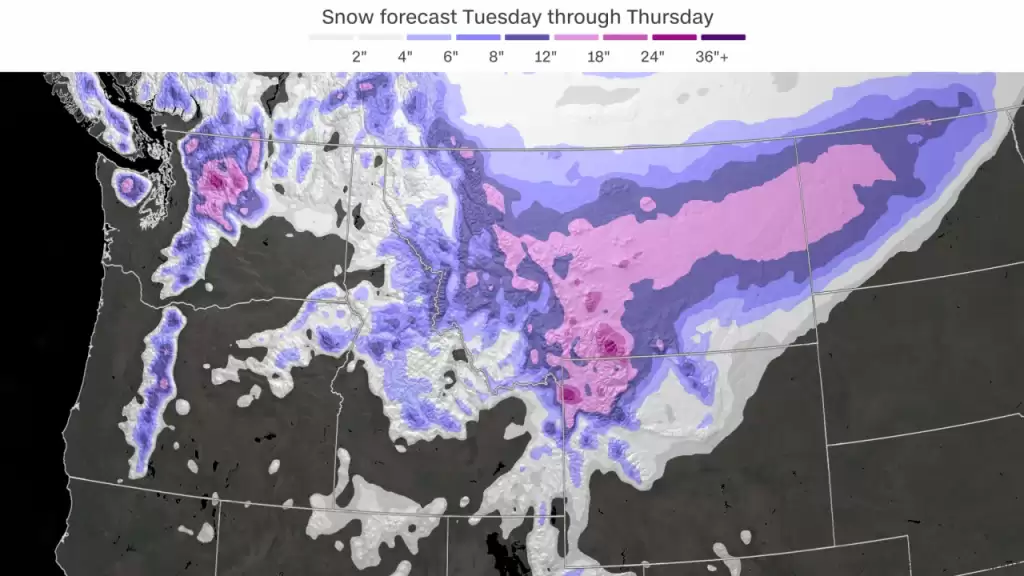 Image: Computer model forecast showing expected snowfall accumulations in the area. Source. NOAA.
The first significant snowfall of the season is in progress across a large swath of the northwestern United States and parts of the Northern Plains. Forecast models indicate that many high elevation areas will be buried in more than a foot of fresh snow.
A surge of moisture laden polar air is spreading through Washington, Oregon, and Montana, dropping temperatures below freezing and creating significant wind chills, in addition to providing all the conditions needed to create snow.
The National Weather Service (NWS) in Great Falls Montana issued a Winter Storm Warning,
…WINTER STORM WARNING REMAINS IN EFFECT UNTIL 6 PM MDT THURSDAY…
* WHAT…Heavy snow. Additional snow accumulations between 4 and 8 inches. Winds gusting as high as 35 mph, mainly through tonight.
* WHERE…Elkhorn and Boulder Mountains and Upper Blackfoot and MacDonald Pass.
* WHEN…Until 6 PM MDT Thursday.
* IMPACTS…Travel could be very difficult to impossible and tire chains may be required for some vehicles. Areas of blowing snow could significantly reduce visibility. Those in the backcountry should ensure they are prepared for dangerous conditions. The hazardous conditions could impact the morning and evening commutes, especially today.
* ADDITIONAL DETAILS…A break in the snow is expected starting later this afternoon, but another wave of snow overspreads the area tonight and through the day on Thursday.
The NWS showed that snow accumulations are already significant, with Great Falls expected to get an additional 4.7 inches, Fort Benton 5.2 inches, and Lewiston, 5.6 inches. Stanford leads the totals with 6.8 inches expected.