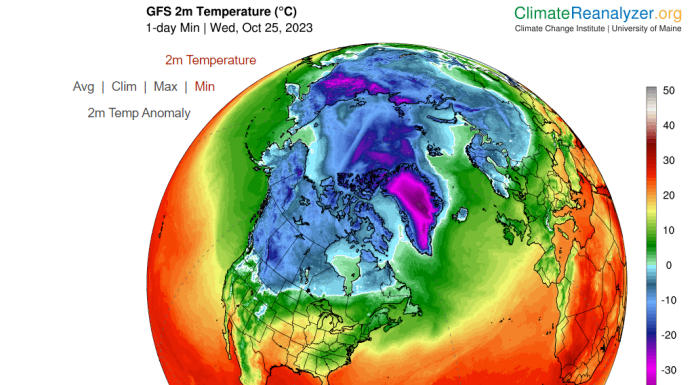 An arctic front is delivering an early taste of winter to western Canada, with cities across Alberta experiencing below freezing temperatures and accumulating snow, reports The Weather Network.
"It's time to break out the jackets and shovels, Alberta, because the cooldown is here," said The Weather Network, continuing, "[a]rctic front drops up to 20 cm of snow in Alberta, plummeting temperatures."
The cold front delivered well below seasonal average temperatures across Alberta. Temperatures of -14℃ were expected in Sundre on October 25, and temperatures in Lake Louise, Canmore, and Calgary were 20, 18, and 13 degrees Celsius below zero, respectively.
Also while snowfall in the range of 10 to 20 cm was forecast to be common across much of Alberta, some locations were expecting more than 25 cm of snow before this particular arctic blast waned.
There is some evidence that the early temperature and snow projections discussed by The Weather Network may have understated the severity of the winter blast. On October 24, CTV News Calgary Chief Meteorologist Danielle Savoni reported:
As of 6 p.m. on Tuesday, snowfall totals registered at 11 to 36 cm in Calgary (according to third-party data).
While the snow is coming to an end here, this cold is going to stick around for another couple of days.
Wednesday at 8 a.m., the base temperature will be -13 C, but it will feel more like -19 with the wind chill.
Indeed, temperature projections indicate average daily temperatures will remain below freezing, well below freezing at night, through October 29, at least.