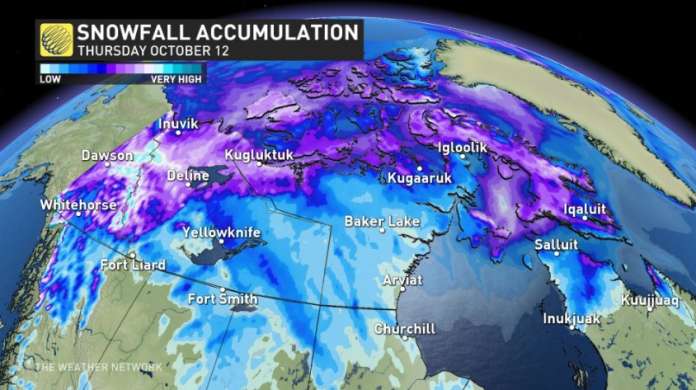 Canada was hit with a polar vortex induced cool down late the first week of October, the Weather Network reports.
"With cold air intensifying a disturbance over Eastern Canada, it'll be a recipe for wet snow across northern Ontario this upcoming holiday weekend –just a week after all-time, warm October temperatures peppered the region," said Tyler Hamilton, Weather Network meteorologist. "This swirling, cool air will become cut off from the main atmospheric flow, overstaying its welcome next week, so it'll be twirling over Ontario and Quebec right through Thanksgiving Monday.
"Temperatures at times are forecast to be as much as 8-10°C below seasonal," Hamilton continued.
A map displayed by the Weather Network (seen above) shows that cold temperatures, snow, and ice are already coating large portions of the Yukon Territory, the Northwest Territories, and Nunavut, as of October 5 with more expected through October 12. Below normal for the season cold temperatures, although relatively little snow or ice, are also dipping farther south, into British Columbia, Alberta, and Saskatchewan.