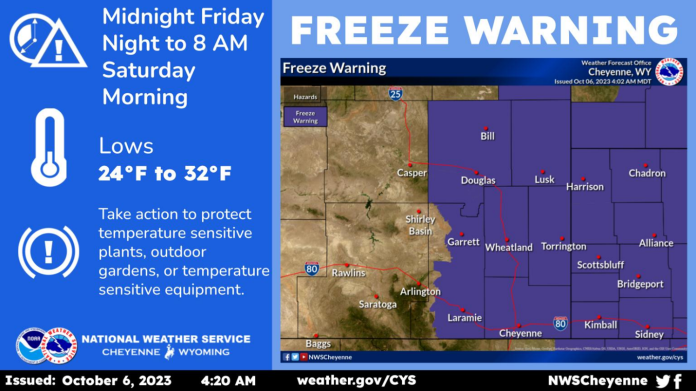 A powerful storm delivered freezing temperatures to south eastern Wyoming and the first heavy snowfalls of the season to the Grand Tetons, Jackson Hole Mountain Resort and Grand Targhee, reports KGAB and Buckrail.com, respectively.
"The Cheyenne Office of the National Weather Service has issued a freeze warning for southeast Wyoming starting at midnight tonight and continuing through 8 am on Saturday, October 7," wrote KGAB. "The warning area includes Cheyenne, Laramie, Douglas, and several other communities in southeast Wyoming and the Nebraska Panhandle.
Further North, the same cold front delivered first heavy snow to the mountains of Wyoming.
"Snow totals at Jackson Hole Mountain Resort as of Wednesday morning included 13 inches at the Rendezvous Bowl Plot (9,580 feet), 10 inches at the Raymer Plot (9,360 feet) and 8 inches at the Mid-Mountain Plot (8,180 feet)," said Buckrail meteorologist Alan Smith on October 6. Smith said more mountain snow could be come early next when the next storm front was expected to blow in.