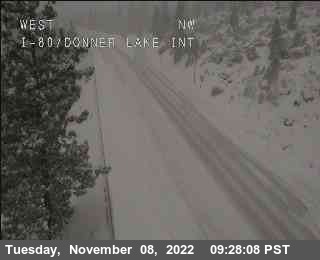 The Sacramento, CA office of the National Weather Service (NWS) has issued a statement and graphic on their web page saying:
"Dangerous mountain travel expected Today – Wednesday morning due to heavy snow and strong winds. Mountain travel is HIGHLY DISCOURAGED during this time! If you have travel plans, now is the time to prepare for winter travel conditions or adjust travel plans."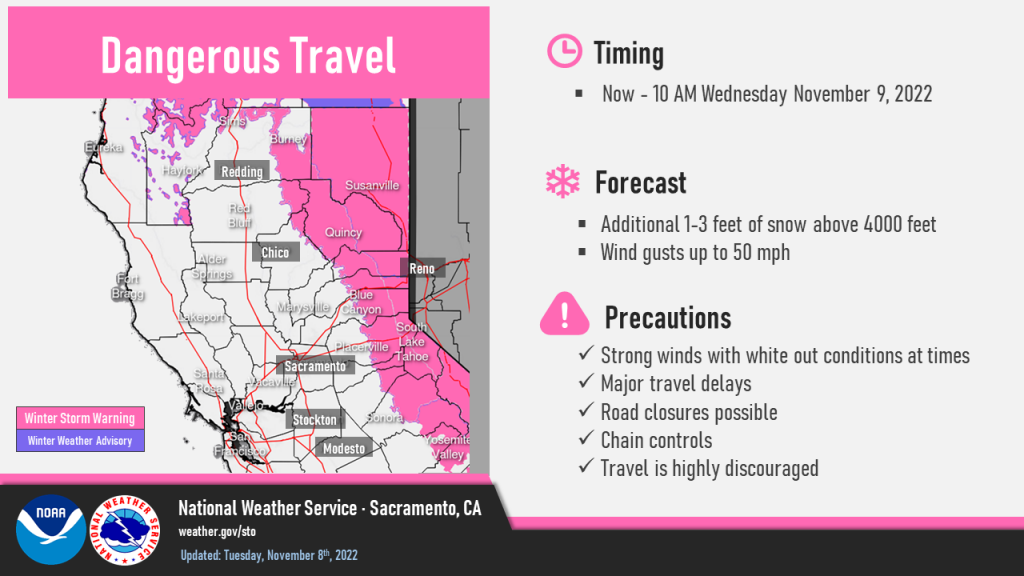 Meanwhile, CBS News in San Francisco posted a story Sierra braces for blizzard conditions; 4 feet of snow, possibility of thundersnow saying:
"The majority of the guidance shows the storm finally exiting to the east on Wednesday, leaving behind lingering snow showers and  plenty of cold air," forecasters said. "While highs Wednesday and Thursday will struggle to reach the lower 30s near the Sierra, it will really be felt Wednesday and Thursday nights when less cloud cover and light winds are expected."
"Lows in the single digits and teens are likely in most areas, with sub-zero temperatures in the colder Sierra valleys–especially if  meaningful snow cover is present."
The California Department of Transportation has posted chain controls and many road closures in place all over the Sierra Nevada, and as seen in the head photo from a I-80 camera, Interstate 80 is bereft of its usual traffic.
Interstate 5, the other main traffic artery in Northern California, is now closed:


Source:https://twitter.com/CaltransD2/status/1590022022733570048