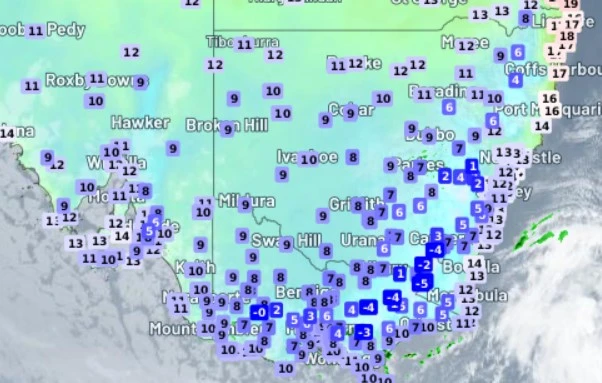 Various Australian new outlets are reporting the continent is experiencing "unseasonably" cold temperatures this spring bringing snow and hail, unwelcome to many, but pleasing ski resort operators.
Thanks to a weakening polar vortex, a sustained cold air mass from Antarctica swept across much of the Australia setting cold temperature records on some days in some areas and bringing unusual for the spring snow and hail.
"It's well into spring in Australia and yet three different Australian jurisdictions are seeing snow,?" reports The New Daily. "A decent amount of snow fell in Tasmania, Victoria, New South Wales [NSW], and the ACT overnight, and South Australia even copped a light dusting, Weatherzone reported.
"Significantly, up to 35cm [of snow] was reported in the NSW Snowy Mountains. Similar amounts of snow was seen in the Victorian Alps and the mountains surrounding Australia's capital," continued The New Daily citing Weatherzone. "Antarctic airmasses can sneak their way onto Tassie and southern mainland Australia in any month of the year … but … the strength of this particular late spring cold front is quite remarkable, and so it has proven, with snow falling in places at lowish altitudes well beyond the high country."
In another article discussing the Australia's unseasonable spring freeze, ABC.net.au news described how snow blanketing the Southern Alps was pleasing ski lift operators.
"Australian ski resorts have been transported back to winter after a cold snap left a fresh dump of snow across Victoria and New South Wales," says ABC.net.au. "The Bureau of Meteorology had issued a warning for the east coast as it braced for temperatures usually felt in winter.
"The Antarctic blast saw snow fall in Victorian and NSW alpine regions," ABC.net.au writes, noting that the amount of snow was quite heavy topping 35 cm in some areas. And because temperatures were at or below freezing in many areas, the snow is expected to linger for a few days.
"The cold blast saw overnight temperatures drop to freezing while maximum temperatures were up to 10 degrees below average," reported ABC.net.au.
The city of Orange experienced its coldest November day in 34 years, while temperatures on Mount William fell to -1℃, only slightly higher than the coldest November day on record of -2.5℃. Elsewhere in NSW, the temperature at Mount Kosciuszko dropped to -7℃.
Racegoers at the annual Melbourne Cup braved the coldest race day in more than a century to see the annual race successfully run. Temperatures on race day topped out at 13.3°C making it the coldest cup day since 1913. The cold was accompanied by rain, but the cold rain did not dissuade horse racing fans from attending the biggest annual race in Australia.