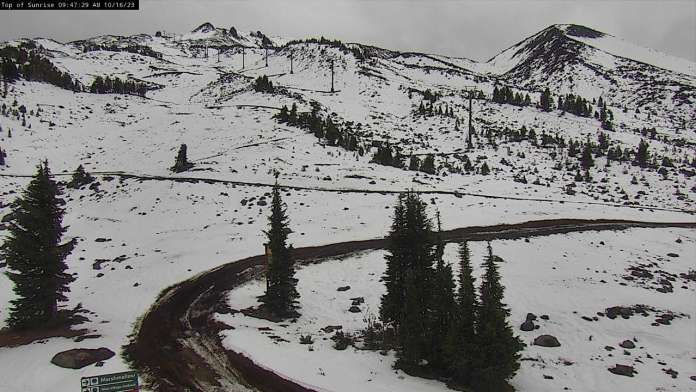 Image: Mt. Bachelor Ski resort webcam
On October 11, various news outlets reported that a cold front was delivering early for the season snow to the mountains of Washington state, warning travelers crossing the mountain passes to drive with caution.
"Over the next couple of days, the mountain passes of Washington State will be getting hit with their first layers of white winter snow," said KPQ NewsRadio 560. "If you plan to head over the mountain passes of Washington State, make sure you are prepared.
"The forecast for possible snow in the main mountain pass for Washington state starts tonight and lasts until the middle of the week before changing back to rain," KPQ continued.
In particular, KPQ said Stevens Pass, White Pass, Snoqualmie Pass, and the area around Skykomish were likely to see a winter mix of snow and ice accumulating.
Elsewhere in Washington state, SR 410 through Chinook Pass was closed in the early morning hours of October 11, allowing the Washington State Department of Transportation to clear an accident. The TriCities/Yakima NBCRightNow, reported that a semi-truck got stuck in the unexpected, early season snow. The road was blocked while plows, maintenance crews, and the Washington State Patrol worked to get the truck free of the snow.
Farther south, Powder.com reports that the same winter storm front delivered welcome snow to ski resorts in Oregon.
"Ladies and gentlemen, it is snowing at Mt. Bachelor, Oregon," wrote Powder.com. "And no, we're not talking about an inch of sleet mixed with rain: yesterday, the resort announced they'd receive five inches of the white stuff with more on the way."
"This is not a drill—early season snow has arrived‼️," wrote Mt. Bachelor Ski Resort on Instagram (screen capture below).
Photos from webcams placed around the resort showed steady snow and significant accumulations on October 12.