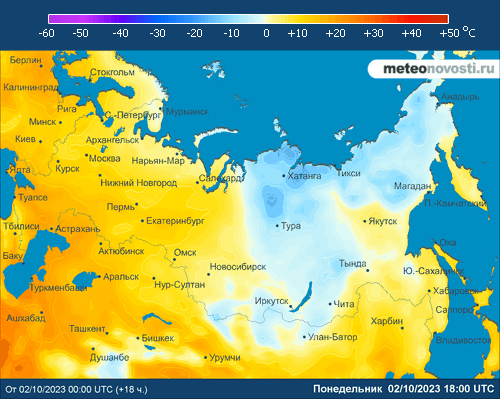 Meteonovosti.ru is reporting that below freezing temperatures had become common across large parts of Russia by September 30.
"The area with temperatures below zero is increasing every day," writes Meteonovosti.ru. "Now, in the European part of Russia in most areas of the Komi Republic, the temperature on the night of September 30 dropped to -5℃ degrees."
Elsewhere in Russia it is even colder:
Yamalo-Nenets and Khanty-Mansi Autonomous Okrugs have already seen temperatures drop to -7℃ degrees.
The Sverdlovsk region has experienced temperatures of -5℃.
"In Siberia, a stable minus is observed in the far north (in Taimyr, Turukhansky region and Evenkia), as well as in the far south," writes Meteonovosti.ru.
Temperatures in in Trans-Baikal Territory fell to -9℃.
The most severe freeze was experienced in the Verkhoyansk region where temperatures fell to -14℃, and in the Oymyakon region which experienced lows of -18℃ degrees.
On October 2, the coldest temperature reported by Meteonovsosti.ru at 7:00 pm local time was at Chelyuskin where a temperature of -10℃ was reported with the wind chill making it feel like -17℃.