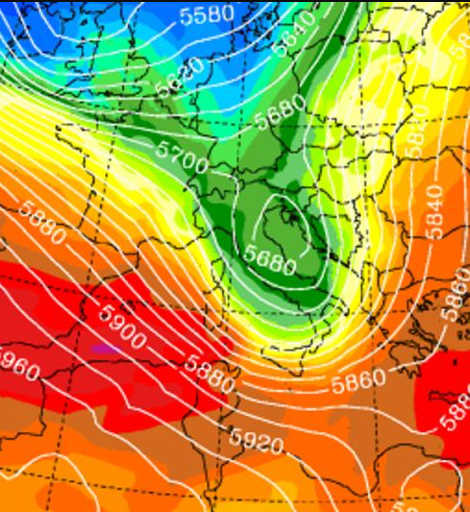 An unusually steep drop in temperature was recorded in parts of Italy during the past week, accompanied in some locations by heavy snow.
"A few days of 'early autumn' in different regions of Italy hit by one intense and anomalous wave of bad weather which recorded intense rains and thunderstorms with hailstorms and very strong gusts of wind," reports Italy 24 News. "The sultriness and heat were momentarily swept away by one northwestern fresh air mass which brought back not only the rains, but also a sharp drop in temperatures."
Electroverse provided details on just how "sharp" the temperature decline was.
Yesterday (Aug 8), a string of monthly low temperature records fell across the country, including in Sardinia.
Here, a new summer low of 14.2C (57.6F) was posted at Capo Frasca, with historic and near-freezing readings observed at the island's interior, such as the 0.9C (33.6F) at Ilorai, 1.8C (35.2F) at Gavoi and 2.7C (36.9F) at Villanova — all new August lows.
Residents used twitter to report and record heavy hail and snow in some locations. The Dolomite mountains have received multiples bouts of heavy snowfall in recent weeks.
"A perturbation that affected eastern Trentino and upper Veneto brought about a sharp drop and white flakes on the highest peaks, including the Civetta above the town of Alleghe," reported Italy 24 News on August 7. "In the area of ​​the Punta Penia refuge at 3,343 meters everything is white and the mercury column shows 3 degrees below zero, …."
"Both in the valley floor and in the mountain resorts, temperatures have dropped by around 10 degrees," wrote Italy 24 News.