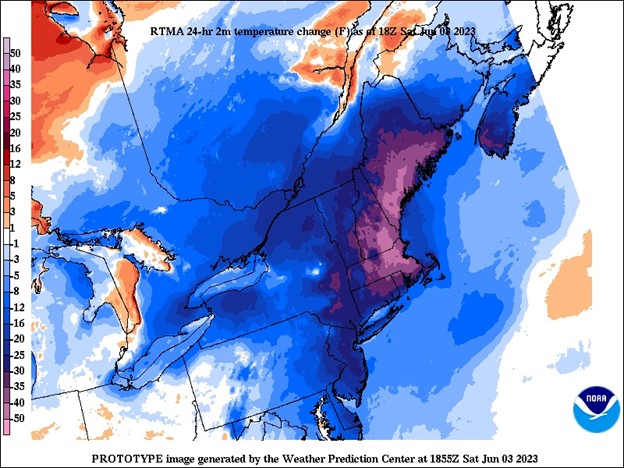 The National Weather Service (NWS) in Boston reported on Twitter that a very fast and very cold drop in temperature for the region was observed on Saturday, June 3, 2023 (see the figure, above):
We probably don't have to tell you this…but:
Parts of New England have seen the biggest temperature changes over the past 24 hours – upwards of 40 degrees or more! As one example, the temperature at 2 pm in Lawrence, MA was 50 degrees while yesterday's temperature at 2 pm was 90!
As the NWS reported, the decline in from the high temperatures experienced on Friday to those on Saturday was dramatic, as shown in the two maps below. The average high temperature decline between the two days was in the 30-to-40-degree Fahrenheit range over 24 hours.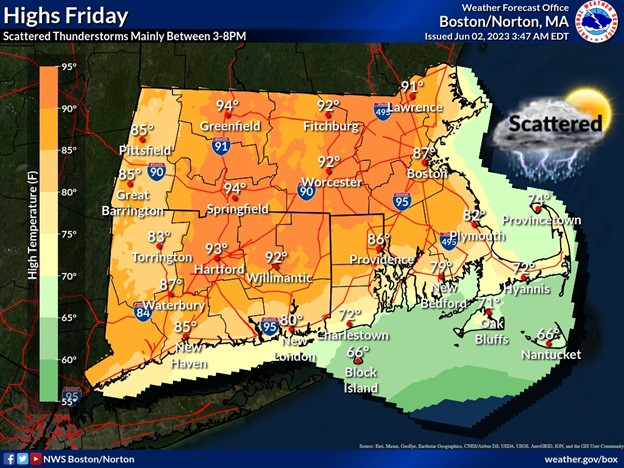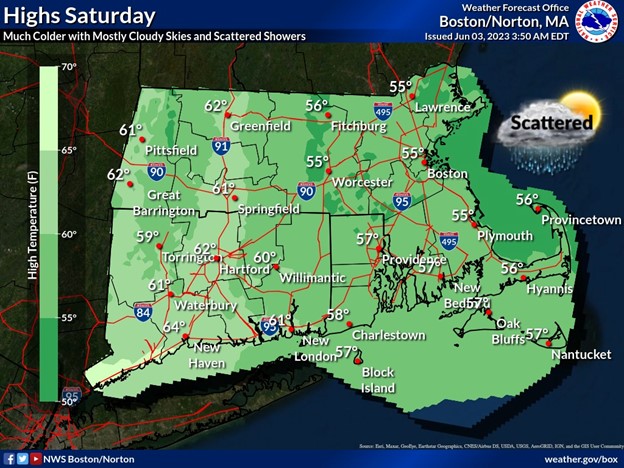 The NWS notes in their Area Forecast Discussion that cooler than normal temperatures will continue:
Area Forecast Discussion
National Weather Service Boston/Norton MA
1037 AM EDT Sun Jun 4 2023
.SYNOPSIS…
Unseasonably cool weather will continue today with gusty northeast winds. A few showers this morning, then more widespread rain is expected later this afternoon into tonight, especially in eastern Massachusetts. Scattered showers will linger into Monday in eastern New England with some temperature moderation, but still well below normal. Warmer Tuesday with more seasonable temperatures for early June, then turning cooler for the rest of the week. Unsettled weather pattern will persist through the end of the week.