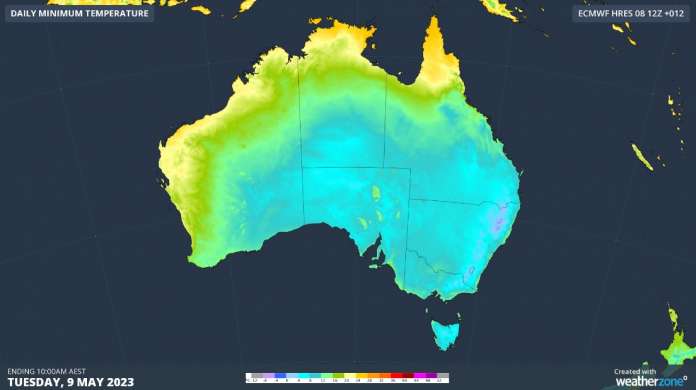 The weather in Australia has been unseasonably cold and has set new cold records. Climate Change Dispatch reports:
Icy polar air masses continue to dominate large parts of Australia – most recently in the west. Moreover, a continent-wide cold air outbreak from Antarctica is expected in the second half of this week.
Australia is cooling, and the proof is in measurements: For the past six years, it has been colder than average Down Under, and the list of cities that have recorded the coldest seasons since records began is growing (such as Brisbane last winter).
May 2023 continues this cooling trend, with the lowest May temperatures on record already recorded in a number of locations early in the month – including Cooma, Omeo, Bombala, and Canberra.
Even large cities such as Sydney, set new records for cold. Weatherzone.com.au noted: "Sydney experienced a rapid temperature drop on Sunday night as cold rain poured over the city. The minimum temperature of 7.1ºC at 10:36pm on Sunday was Sydney's equal lowest May temperature since 1999, and its lowest temperature this early in autumn for 85 years."
Additional records were set in Queensland and New South Wales according to a separate report by Weatherzone.com.au:
Monthly minimum temperatures have been as much as 3-5ºC below the long-term average in parts of Qld and NSW this month, with numerous places enduring their coldest May nights on record.
In Qld, Amberley's monthly minimum temperature up to 9am on May 30 was 5.2ºC. This is well below its long-term May average of 10ºC, and the lowest May minimum in records dating back to 1942, beating the previous record of 6.1ºC from 2006.
Brisbane Airport's average May minimum of 10.6ºC as of May 30 is also a new May record, with data from the current and old airport weather stations dating back to 1950. The previous record was 10.9ºC in 2004.