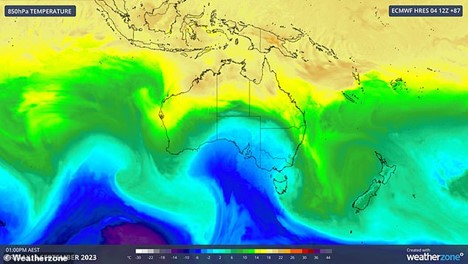 Image above: The cold front brought freezing winds to Australia's southeast, including Adelaide, Melbourne, Sydney and Canberra. Image from WeatherZone.au
Various wire services reported that a cold front from Antarctica combined with a high-pressure system brought cold temperatures, strong winds, snow, and rain to much of southern and eastern Australia this past weekend.
The cold front delivered icy temperatures, damaging winds, low level snow and wind gusts to South Australia, Victoria, and parts of New South Wales.
On Saturday, September 9, the mass of cold, dry air from behind the front lingered over Victoria.
The frigid air did not reach Northern Australia, but southern Queensland and central Australia saw the edges of the system and the resultant cold mornings.
The cold weather system also brought fresh snow to the Australian Alps over the weekend, boosting the snowpack at ski resorts in the area. A webcam image at the ski resort known as THREDBO (below) showed fresh snow on the ground.