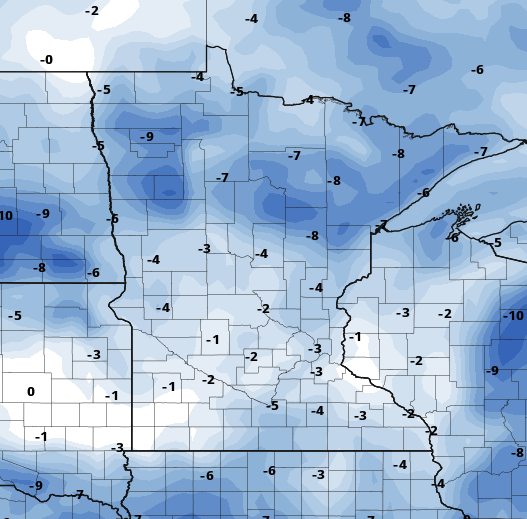 Image above: Forecast temperature anomalies (departure from normal) Monday, National Oceanic and Atmospheric Administration, via Pivotal Weather
A cold front pushed through Minnesota on Monday, dropping temperatures significantly. Minnesota Public Radio reports:
With clearing skies Tuesday night, the stage is set for the coolest overnight Tuesday night into early Wednesday of this season potentially. We'll have widespread 30s and patchy frost north and potentially the first 40s in the Twin Cities urban core.
Temperatures as much as 10 degrees below normal for the time of year have been forecast for many areas in the state. Temperatures 6 degrees or more below normal are expected to be common across much of Minnesota.
In Duluth, the National Weather Service has a Frost Advisory posted: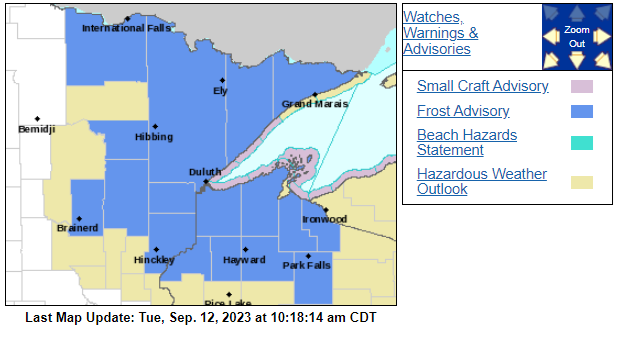 URGENT – WEATHER MESSAGE
National Weather Service Duluth MN
936 AM CDT Tue Sep 12 2023
…FROST ADVISORY REMAINS IN EFFECT FROM 2 AM TO 8 AM CDT
WEDNESDAY…
* WHAT…Temperatures as low as 33 will result in frost
formation.
* WHERE…Portions of east central, north central and northeast
Minnesota and north central and northwest Wisconsin.
* WHEN…From 2 AM to 8 AM CDT Wednesday.
* IMPACTS…Frost could kill sensitive outdoor vegetation if
left uncovered.