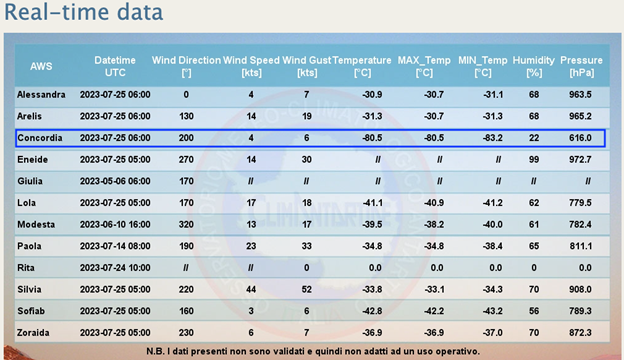 Image: Real-time temperature observations from the Concordia Automatic Weather Station (blue box), showing a provisional minimum temperature observation of -83.2ºC. Source: Antarctic Meteo-Climatological Observatory.
The Concordia Research Station in Antarctica recorded a low temperature of -83.2ºC on July 25, the lowest recorded temperature in Antarctica since 2017, reports Weatherzone.
Concordia, managed jointly by scientists from France and Italy, was the third permanent year-round research station established on Antarctica.
"According to real-time data published by Italy's Antarctic Meteo-Climatological Observatory, the temperature at Concordia Research Station dropped to -83.2ºC on July 25," reported Weatherzone. "Another nearby Automatic Weather Station, named Dome C II, also registered temperatures lower than -80ºC, reaching -81.4ºC at 18:47 UTC on July 24 and -81.6ºC shortly before 03:00 UTC on July 25."
Dome C II is jointly operated by France and the University of Wisconsin, at Madison.
Should Concordia's temperature readings be validated, it would represent the coldest temperature recorded anywhere in the world in 2023 as of July 25.