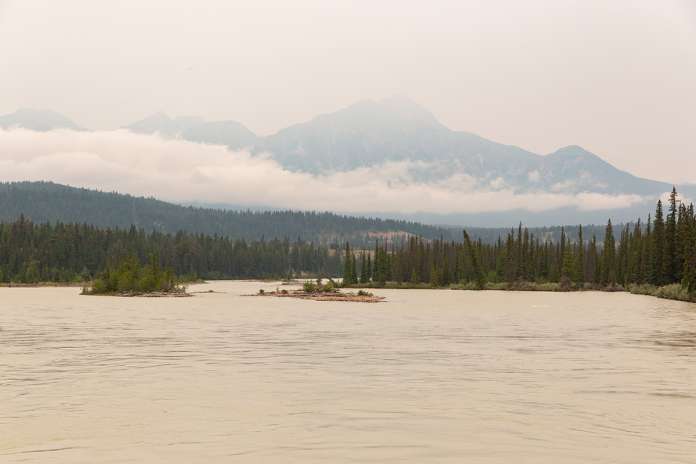 Above: Image from Jasper National Park Twitter feed.
It's mid-July, firmly in Summer, but don't tell that to residents of and visitors to Jasper, Alberta, Canada where "a freak snowstorm created an unusual start to the week of the Summer Solstice," according to Yahoo News' Local Journalism Initiative.
A low pressure system combined with extremely cold air to dump more than 40 cm of snow throughout Jasper National Park and the surrounding area, all the way to Alberta's border with British Columbia.
The snow created "havoc all around," for travelers, reported Yahoo News, writing:
Two tour buses that tried to drive up Maligne Lake Road where a little more than a meter of snow had landed. They got stuck somewhere near Medicine Lake, so Parks Canada sent a plough up to clear the path so that the roughly 40 passengers could be transferred back down. The plough then went farther up, or at least it tried to before it got itself stuck.
Campers in the park also sought help from authorities when heavy snow during the night caused their tents to collapse, leaving them suffering during the extreme cold. A helicopter and a boat were used to deliver aid to different groups of campers.
Roads and trails were blocked by downed tree limbs which snapped off under the weight of the heavy, wet, snow. Per Yahoo News:
The unseasonal snow load also brought down an unusually high number of trees and tree branches throughout the national park and the municipality itself. Parks Canada sent out chainsaw crews to remove the deadfall from roads and improve access on trails.
The town's [Jasper] Operations Department had its own crews out clearing downed trees from public sidewalks and streets. It was working with ATCO and Parks Canada to address hazards and deal with trees that had fallen on power lines.