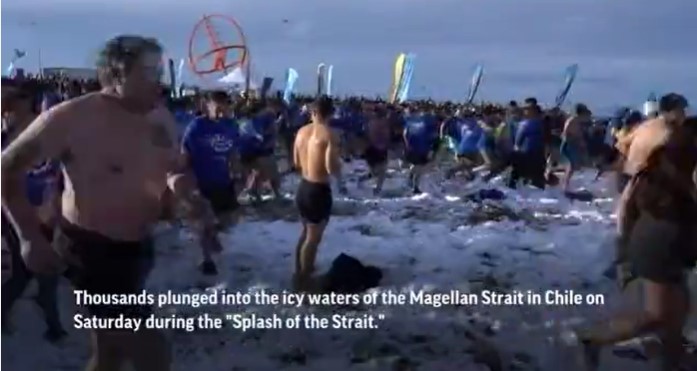 Image above: screencap of a video of the event from the Times of India
Thousands of people took an icy plunge into the cold waters of the Straits of Magellan in Punta Arenas, Chile to celebrate the austral winter on Saturday, July 8, EFE.com reported.
The chilly plunge is an annual event with participants young and old.
"More than 13,000 people on Saturday marked the arrival of the austral winter with a dip in the icy waters of the Strait of Magellan, at sub-zero temperatures, in an annual event that draws thousands of tourists every year to the city of Punta Arenas, in southern Chile," wrote EFE.
In a statement, Punta Arenas' mayor, Claudio Radonich, said that a record number of people joined the celebration this year, undeterred by sub-zero temperatures.
"We were at three degrees below zero, and we see that it is not an impediment for this event to continue to grow, …," Radonich said. "We saw a record number of people, including spectators and those who entered the water, about 15 thousand people, and what we have always said about it being a party in the whole city."