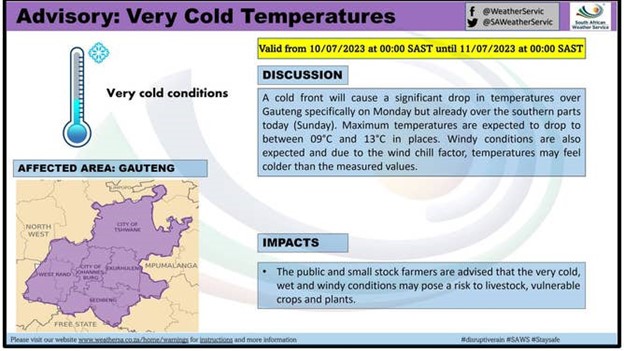 Emergency services in Gauteng province South Africa have issued a rare winter weather warning to residents "while the province experiences extreme weather conditions," in the form of unusual extreme cold and snow across the province, reports IOL news. The low temperatures and rare snow for the region were caused by a combination of cold air masses from the south and east, and broad low-pressure system.
The July 10 warning came after temperatures dropped to at least -6 degrees Celsius in southern Gauteng, accompanied by light snow.
"Ekurhuleni emergency services spokesperson, William Ntladi, said as the temperatures drop, the risk of a fire in homes, offices, and workshops rises," wrote IOL. "He also added that the harsh temperature can cause frostbites and hypothermia to those exposed."
"The extremely cold conditions do not only affect human beings but they also affect animals equally," Ntladi told IOL. "Those who are owners of pets that generally sleep and stay outside are advised to consider keeping them in a warm place as well."
Johannesburg's Emergency Management Services (EMS) also warned residents of the dangers of leaving heating appliances unattended, noting that the city has already experienced an upsurge of more than 100 fire incidents resulting in seven deaths during the 2023 winter.
"It is around this time that we respond to most fires, and we record a high number of fatalities," EMS spokesperson, Nana Masechaba Kgiba, told IOL.