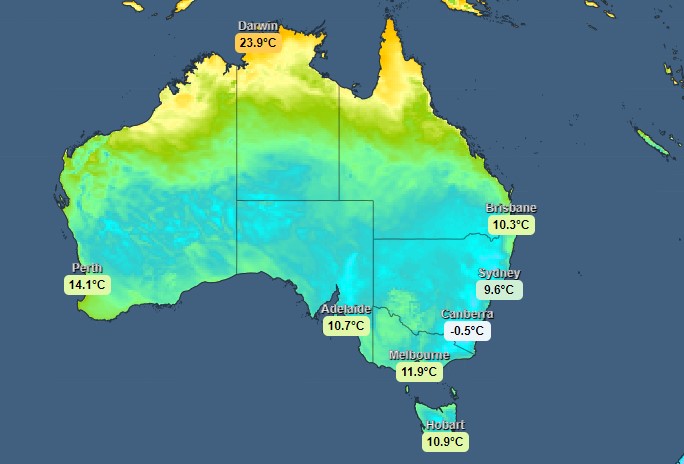 Image above: Australian temperature gradient map from weatherzone.au.
News.com.au reports that millions of Australians across the continent are facing a cold front with extremely high winds, expected to deliver "brutal cold," across multiple Australian states.
News.com.au writes:
Temperatures have plunged to freezing temperatures in Queensland as a cold front moves across the southern states.
Residents in the sunshine state were shivering on Monday night as the mercury dipped to -7.7[℃] degrees in some parts.
According to the Bureau of Meteorology [BOM], it was the coldest July since 2019 in Applethorpe with -4.7℃ recorded on Tuesday morning and Warwick with -2.3℃.
The Bureau of Meteorology issued a strong wind warning for parts of Tasmania, where at multiple locations wind gusts topped 130 kilometers per hour.
The BOM issued frost and high wind warnings in Queensland and other southern Australian states, including New South Wales and Western Australia.
Australia's ski resorts are cheering the winter blast which has delivered heavy snow to the mountains. More than half a meter fell in some locations in the past day, according to Planet Ski. July 10th's snowfall added to snow that fell in previous weeks, resulting in what Planet Ski describes as "one of the best starts to the Australian ski season in recent years."