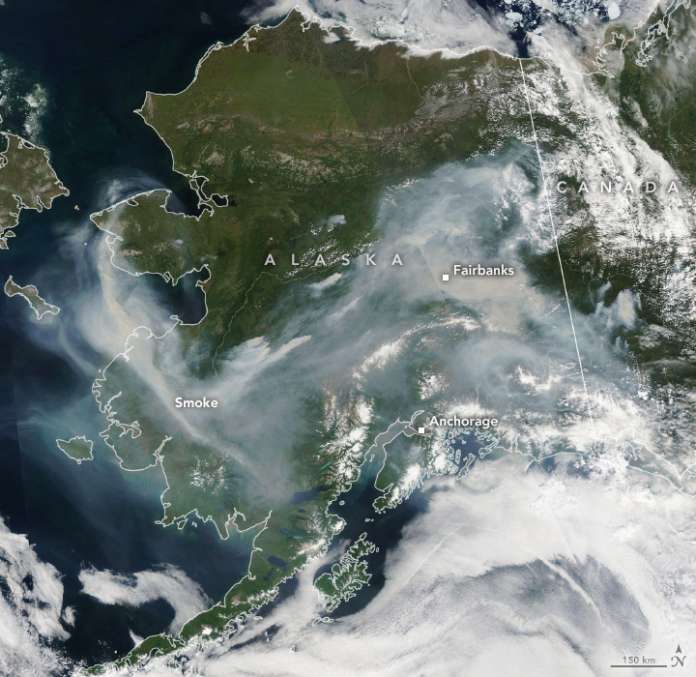 Above: Wildfire smoke in Alaska seen by satellites in 2019. Image: NASA Earth Observatory.
The Alaska Center for Climate Assessment and Policy (ACCAP) is reporting that a cool spring and slower snowmelt has resulted in a record low number of acres lost to wildfires for this time of year across Alaska, according to Arctic Today.
The Alaska Interagency Coordination Center is reporting "a total of 129 wildfires statewide and 1,314 acres burned. Of those wildfires, 110 have been reported to be started by human causes and 19 have been reported to have started by lighting."
According to Rick Thoman, a climate specialist with the ACCAP and the University of Alaska at Fairbanks, the year's wildfire total so far is the lowest since detailed, consistent records have been kept beginning in 1992.
"The typical acres burned at this point in the season, June 26, is about 175,000 acres, and last year was over 1.2 million acres at this point," said Thoman.
Cooler than average temperatures and lingering snow have suppressed wildfires thus far in Alaska, and Arctic Today reports current weather patterns bode well for the entire wildfire season. A sustained low pressure is in place across the Bering Sea, which is keeping cool air in place and limiting thunderstorm activity. Unless the weather pattern radically shifts before the second week of July, when energy and heat from the sun begins to decline in Alaska as its extended fall approaches, Alaska may see a respite in 2023 from its normally active wildfire season.