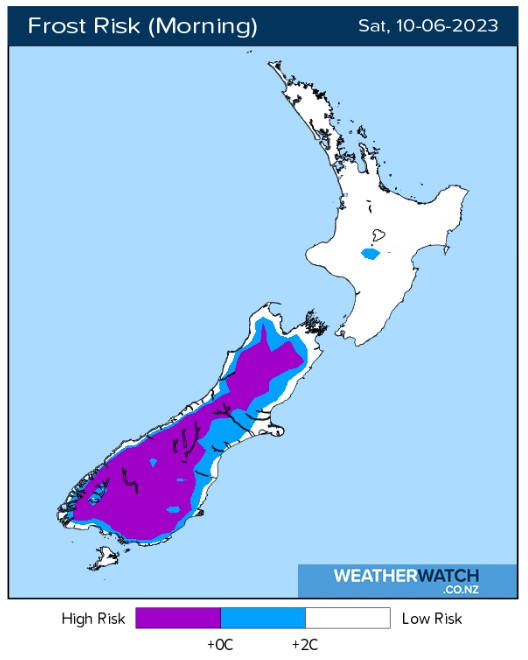 Above map shows: The level of Frost Risk based on the Minimum Temperature in (°c), GFS model data provided by NOAA.
A surprisingly severe cold spell blew across New Zealand on June 5, delivering subzero temperatures and snow to many locations, according to the New Zealand Herald, which said:
New Zealand awoke to chilly temperatures this morning as winter begins to rear its head, with some regions hit with overnight sub-zero chills.
This created a threat of icy roads – while other parts of the country had a cold shock following warmer weather.
In particular, Lake Pukaki, with a temperature of -5.2℃, had the coldest reported temperatures in New Zealand on June 5. Elsewhere, Lake Tekapo reported a temperature of -4.6°C, Queenstown had a recorded low -2.4°C, Dunedin Airport in Otago reported a low of -2.6℃, and Wanaka, Mt Cook, and Alexandra all experienced temperatures of colder than -2°C or lower during morning hours.
The mid-week chill came two days after Weather Watch warned of moderate to heavy snow and ice falling across a wide area of the New Zealand's South Island. As predicted by Weather Watch, ice, snow, and high winds accompanied the June 5 cold front making travel hazardous, with reports of treacherous black ice forming on roads in parts of the country.