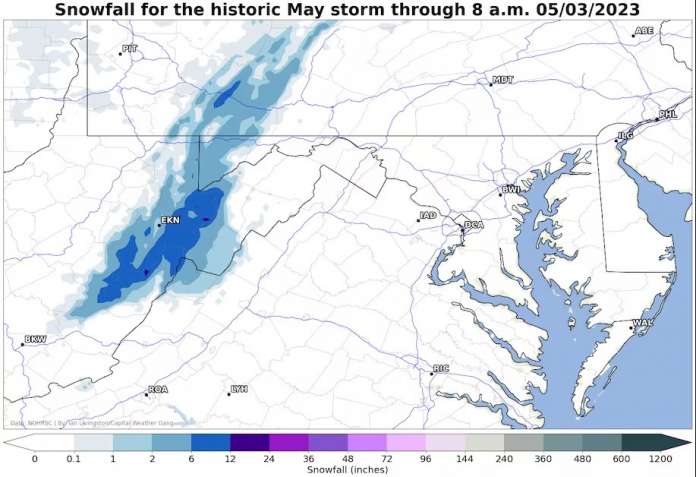 It appears a recent late winter storm has broken the all-time record, according to the National Weather Service (NWS) in West Virginia.
Robert Leffler, a retired NWS meteorologist, told the Washington Post in an email that "From all sources I have, the 16.2 inches at Canaan Heights is the largest May snowstorm in WV recorded history."
A map posted by the NWS at their website, seen above, shows the event, illustrating snowfall depth from the storms passage.
Leffler went on to write, "It is also the largest 24 [hour]-total snowfall (10.1 inches) and greatest snow depth ever recorded in WV May records."
The Post added some history,
Previously, the highest May total in an online database was 10 inches in Beckley in 1923. The other top amounts posted in West Virginia this late in the year are half that or less.
A National Weather Service observer near the Snowshoe ski resort in the east central part of the state posted a foot of snow. But that was outdone by a pair of reports in Canaan Valley to the north. An observer reported 16.2 inches in Canaan Heights, while there were more than 15 inches measured not far from the town of Davis.
The Canaan Heights location is at an elevation of approximately 4000 feet in the Appalachian Mountains.