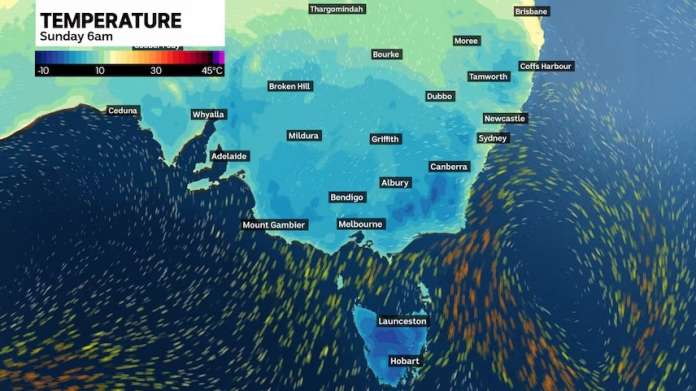 In a story by the Australian Broadcast Corporation (ABC) meteorologist Tom Saunders notes that Australia, as it approaches the Southern Hemisphere winter, is in for a lot of early cold weather. He writes,
A polar air mass from deep in the Southern Ocean is on a path north towards Australia and will deliver a weekend cold snap to south-east states.
The early taste of winter will send temperatures as much as eight degrees below average for May, bringing pockets of hail and thunder along with the first snowfall of the year along stretches of the ranges.
While cold weather in autumn is far from unprecedented, this weekend will bring the coldest early May weather for three years.
Snow is also expected from this pre-winter frontal system:
The snow level should lower to around 400 meters in Tasmania and 700 m in Victoria on Saturday night while for NSW [New South Wales] snow is possible on Sunday down to 900m as far north as the ranges west of Sydney. Although the system will bring very cold temperatures, it is unlikely to bring heavy precipitation, and as a result snow away from Alps is likely to remain light, only accumulating to a dusting.
For the alpine regions the system should bring a moderate fall of around 10 to 20cm of fresh powder, following a healthy snowfall up to 15cm on Tuesday.