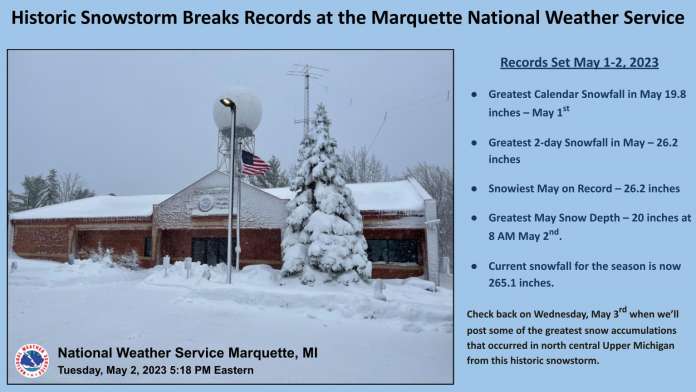 Michigan experienced an unusually cold and snowy beginning to May, as a rare bitter cold front blew in across portions of the Great Lakes and into the northeastern United States.
"Up to two feet of snow has fallen in the hills of Michigan's Upper Peninsula [UP] since Sunday night, in what has become a historic May snowstorm for the area," reported the Washington Post.
The National Weather Service office in Marquette recorded a record shattering 19.8 inches of snowfall on May 1, demolishing both the daily record of 5.4 inches and the monthly record.
Wood TV 28 reported that the winter storm delivered more than 20 inches of snow across Michigan's UP over two days, with Neguanee reporting receiving 29 inches of snow.
Marquette, Michigan finished its season with a whopping 60 inches more than usual. This latest event delivered 25.8 inches of new snow, which is more than Grand Rapids saw in all of January and February combined.
A new United States snowfall record for the month of May was also set due to this powerful spring snow system. Herman, Michigan received 27 inches of new snow on May 1, which is the highest single-day snowfall to ever fall in the month of May for anywhere in the country east of the Rocky Mountains.
The heavy snow caused treacherous travel conditions, with many accidents attributed to the weather. It also caused multiple power outages across the UP.