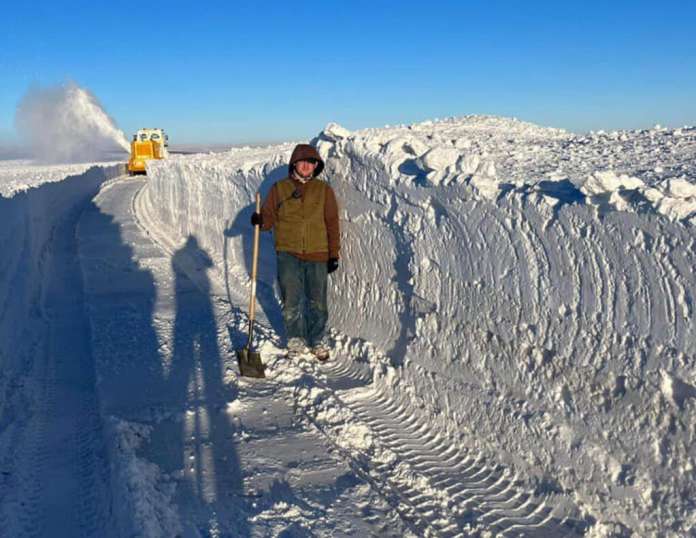 Above: Crews are seen clearing snow drifts at the Casper/Natrona County International Airport recently. More than a foot of snow fell between Friday and Sunday, with large drifts forming as winds picked up in the area. (Courtesy Casper/Natrona County International Airport via Facebook)
With 26.7 inches of snow falling on April 4, and an additional 10.7 inches on April 5, Casper, Wyoming set single day and two-day snowfall records.
The previous single day snowfall record, 24.3 inches, was set on Christmas Eve, 1982. The new two-day snowfall record, 37.4 inches, exceeds the previous record, set in 1937, by more than six inches.
As Cowboy State Daily Meteorologist Don Day reports, Casper was not the only location receiving heavy snow on April 4 and 5.
"But Casper wasn't the only location that got hammered by the spring storm that blew through Wyoming on Monday and Tuesday," reported Cowboy State Daily. 'Atlantic City by South Pass reported 48.8 inches of snow,' said Day."
Wyoming's snow total for the season is running well above average, indicating that the early April snowfall is indicative of a wet 2022-2022 season as a whole.
"This has been an exceptionally wet winter across the state, according to Day," writes Cowboy State Daily. "So far this winter, Casper has seen 131.3 inches of snow; Lander has received 100 inches; and Sheridan has recorded 108.7 inches."
Jackson Hole is approaching 600 inches of snowfall this winter season.
Although none of the totals has set new records yet, several of the towns' seasonal snow records are in sight, and Days says new records could be set before the last snow falls this spring.
"'We're not saying that these are the final totals,'" Day said, 'but this is where we are at in the region, snowfall to date.'"