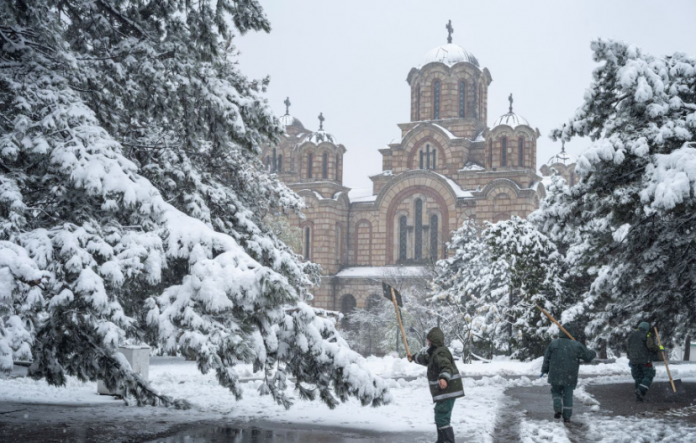 Winter returned to the Balkans delivering heavy snow and record breaking low temperatures across the Balkans, including but not limited to, Serbia, Kosovo, Bosnia, and Romania, accompanied by high winds that closed roads and ports in Croatia and Montenegro.
Belgrade, Serbia's capital and largest city, received more than 20 cm of snow on April 4, setting a new record, besting the previous record for a single day's snow in April by 10 cm. The high temperature that day of just 1℃ also set a record. In some mountainous regions, as much as 40 cm of snow fell.
Heavy snow brought down tree limbs across the city damaging cars, and injuring two teen girls, reports the Associated Press. Elsewhere in Serbia, snow blocked roads and caused multiple accidents. The weather also resulted in power outages in some villages.
Nedeljko Todorovic, a meteorologist told Reuters that snowfall is rare, but not unheard of in Belgrade in April, and has never been this deep.
"If you look at data over the past 100 years, this is the eleventh snow cover recorded in Belgrade in April, and its thickness is over 14 centimeters, the thickest recorded so far," Todorovic said.
Public officials in Pristina, Kosovo's capital and largest city, warned people to stay away from city's parks as a precaution, in order to avoid being injured should snow laden tree branches break off.