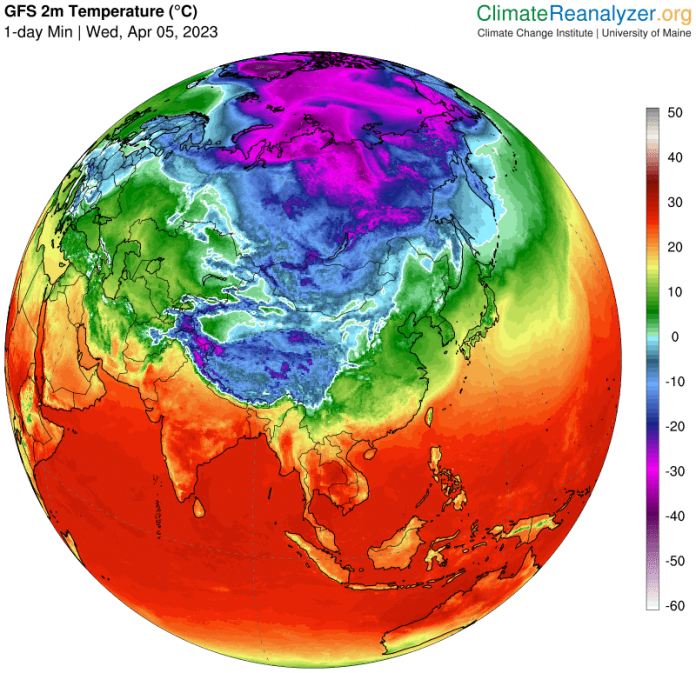 A map from ClimateReAnalyser, (reproduced above) shows that areas of Northern
Siberia have recently experienced minimum temperatures ranging from -20 to –40°C, temperatures that are well below normal as the region enters spring.
Electroverse writes:
Following a brutally cold winter in Siberia, spring is proving to be just as harsh–certainly in northern reaches.
Here, winter is refusing to let up with temperature anomalies of as much as -12C below the multidecadal norm a regular feature.
This area of Northern Siberia is known for its extreme cold, but this usually occurs in the dead of winter. Last year, on January 19, Yakutsk in east Siberia, dropped to -62.7°C (-80.86°F). Yakutsk has the coldest winter temperatures for any city its size or larger on Earth. Average monthly temperatures in Yakutsk range from +19.9 °C (67.8 °F) in July to −37.0 °C (−34.6 °F) in December.
Electoverse adds:
The worst of the initial cold will have shifted to the western regions of Yakutia; however, before the weekend, another swirling mass of Arctic air will plunge into the north of Siberia, bringing with it a gradually descending frost line and abnormally cold conditions to the likes of Cape Chelyuskin and Krasnoyarsk–for example.