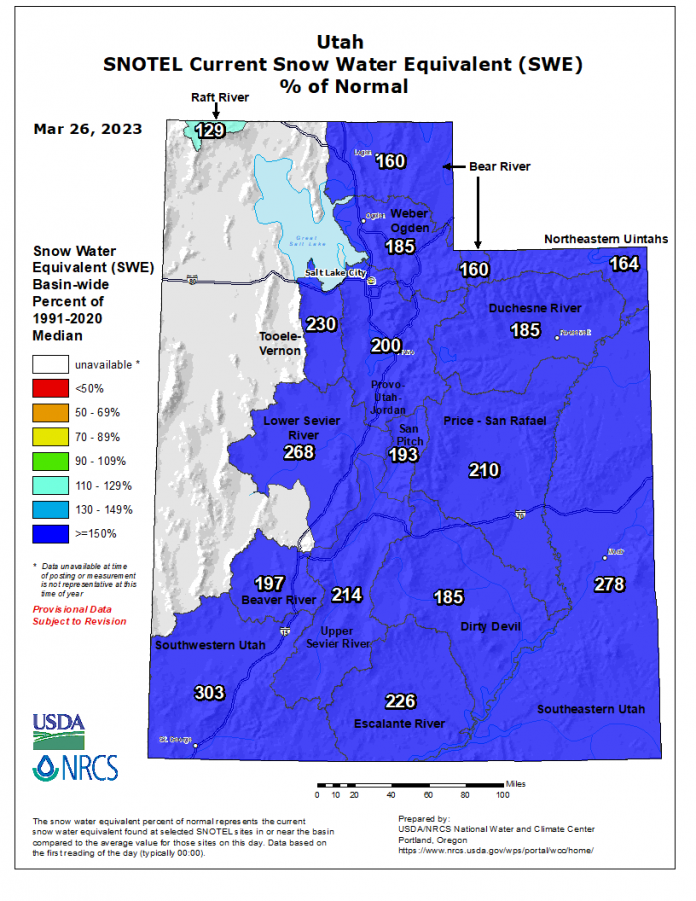 Winter has delivered record setting snowpack to Utah during the 2022-2023 snow season, report KSL TV5 and Fox 13, Salt Lake.
KSL TV5 describe the situation:
Things are about as good as it can get for the Greatest Snow on Earth: Utah has set a record for its statewide snowpack, passing the previous mark set 40 years ago.
Data from the Natural Resources Conservation Service showed Utah's statewide snowpack hit 26.1″ of snow water equivalent on Friday — besting 1983's record of 26 inches.
…
As more snow moves into the state, two Utah ski resorts celebrated a huge milestone they haven't seen in years: hitting 700 inches of snowfall in a season.
The record snow has been a mixed blessing for Utah ski resorts, notes KSL TV5.
Heavy snow and icy roads on March 24 resulted several wrecks on mountain roads and highways in Utah. Two ski resorts, Snowbird and Alta declared an "interlodge event," during which roads to the resorts were closed and all skiers were barred from the ski slopes or from even going outdoors. Resort visitors were ordered to shelter in the main lodge or their rooms due to extreme avalanche risk.
"During an interlodge event, travel outside of the buildings at Snowbird is illegal. This includes being in your vehicle," Snowbird's website said.
The lockdown is only temporary, however, and a number of Utah ski resort operators have already announced that their resorts are extending their operating seasons. Some operators have said that this season's deep snow makes it possible their resorts could open for skiing on Memorial Day. They might even open for Independence Day events if enough snow lingers.