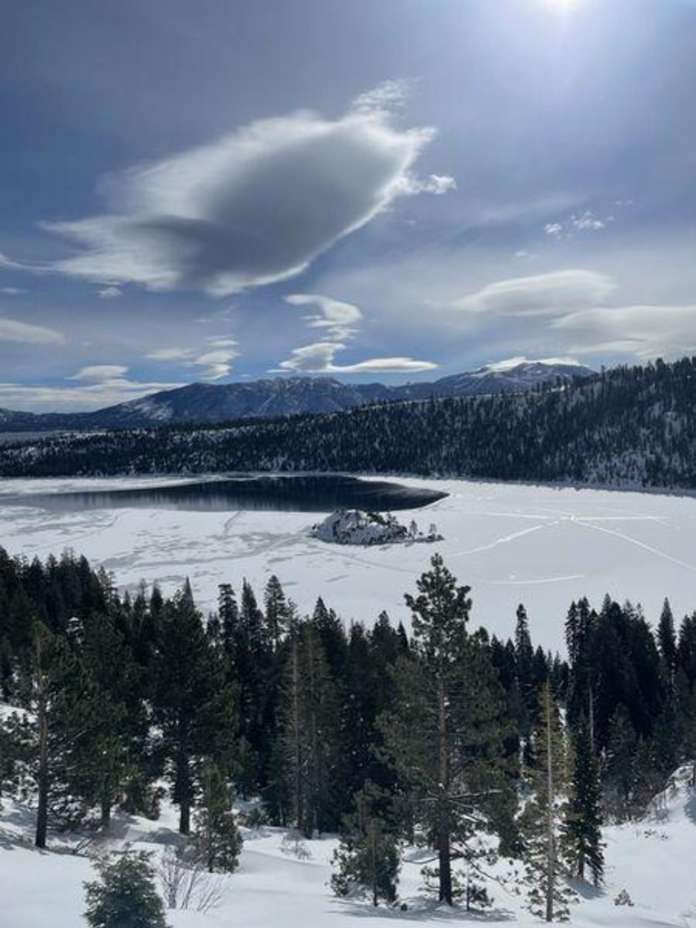 Above: Recent photo of Emerald Bay with ice cover – Image from California State Parks Service.
Repeated atmospheric rivers carrying heavy moisture accompanied by freezing temperatures out of the Arctic region have resulted in near record setting snow across the Sierra Nevada region as well as other parts of California.
The same winter weather caused Lake Tahoe's Emerald Bay to freeze over for the first time in decades, reports The Guardian.
"The bay, a treasured landmark on the lake's south-west shore and popular destination, regularly gets icy during Tahoe's chilly winters, but has not frozen completely in 30 years," Dani Anguiano, writes in The Guardian. "The rare event is the result of the region experiencing its snowiest season in 70 years, with more storms expected to hit the state."
California state park staff commented on the relatively novel nature Lake Tahoe's Emerald Bay freezing over, with Anguiano writing:
"'It's fairly common for it to freeze to a certain extent, especially along the edges of the bay,' Kaytlen Jackson, with the California state parks' Sierra district, told SFGate. 'Every year I've lived here, I've seen it freeze to some extent. It's uncommon for it to freeze completely like it is now.'"
The Guardian notes that the pace and extent of the snowfall this winter has made it impossible for government agencies and residents to keep sidewalks, streets, roofs, and storefronts in the region clear of accumulating snow, which has become a danger. Many people have been trapped in their homes and businesses have been unable to open, with at least one roof collapsing under the weight of deep snow.