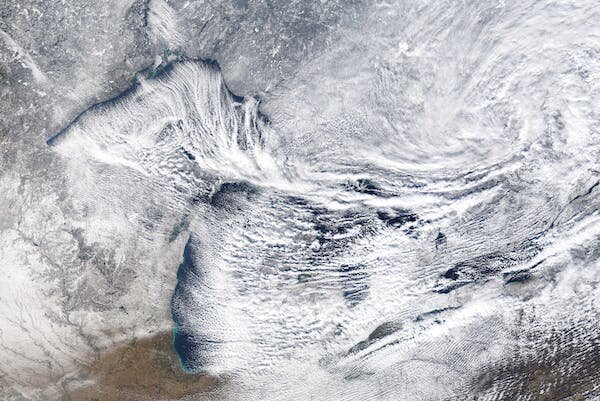 Image above: Canadian winds pick up moisture over the Great Lakes, turning it into heavy snowfall on the far shore. Credit: NOAA
Heading into the weekend on Friday, March 17, the National Weather Service (NWS) warned that "snow squalls," consisting in part of extreme lake snow effects were poised to interfere with plans to enjoy spring weather for a large area stretching from Ontario to Ohio through western New York. The NWS describes a snow squall as an "intense short-lived burst of heavy snowfall that leads to a quick reduction in visibilities and is often accompanied by gusty winds."
Reporting on the intense early spring snow event, AccuWeather wrote:
Residents across the Great Lakes and interior Northeast hoping to get a jump start on spring cleaning this weekend will need to adjust their plans accordingly as a surge of Arctic air will get the gears of the lake-effect snow machine cranking once again.
…
[T]he snow into Sunday … will likely produce snow squalls that can prove to be just as dangerous for anyone who is caught outdoors when one develops.
The NWS's forecast proved accurate.
Environment Canada warned that 30 cm of snow could fall across some areas during the multi-day event, with CP24 reporting:
Environment and Climate Change Canada has issued snow squall warnings and special weather advisories for almost all of southern Ontario.
"Scattered snow squalls this afternoon will intensify and become more widespread this evening and continue through Sunday morning," the federal agency said. "Strong gusty winds will also lead to widespread blowing snow."
Much of the rest of southern Ontario – from London to Ottawa to North Bay, Ont. – are under special weather advisories.
"Scattered bands of heavy snow have developed across the area late this morning," the advisory issued for the Toronto-area reads. "Snow combined with strong gusty winds will lead to visibilities suddenly reduced to near zero at times."
On the United States side of the border, several states along the shores of various of the Great Lakes also experienced high winds and heavy blowing snow, creating white out conditions at various times, with predictable negative consequences.
The Michigan State Police (MSP) reported the spring snow squall contributed to massive 150-vehicle pile-up on Interstate Highway 96 (I-96) near Lansing, according to WWJ News Radio.
The MSP said whiteout condition arose prior to the multi-vehicle crash, which resulted in 16 people being taken to area hospitals with various injuries. The MSP closed a portion of I-96 in Ionia County for more than five hours, while the wrecked vehicles and those that slid off the highway were removed.
Further east, lake effect snow and winds topping 40 miles per hour brought white out conditions, making travel hazardous across Fulton, Herkimer, and Montgomery counties in New York on Sunday, March 19, reported Storyful.