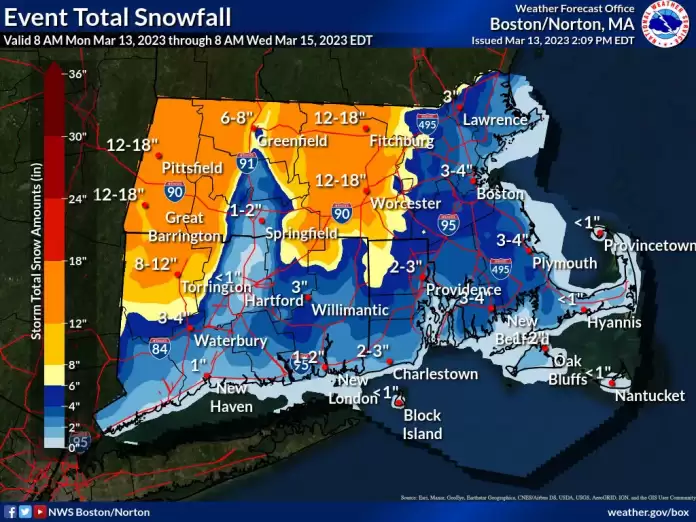 On Monday, March 13, meteorologists at the U.S. National Weather Service (NWS) were projecting a that multi-day Nor'easter anticipated to blow into the Northeastern United States might deliver as much as 18 inches of snow to some areas in the region; the actual snowfall amount was much heavier than expected.
With the Nor'easter still battering cities and towns stretching from New York to Maine as of Wednesday, March 15, CNN reported more than three feet of snow had already fallen in some places, with Beacon, New York reporting snow accumulation during the storm topping 43 inches.
At the storm's peak, high winds and heavy snow brought down tree limbs and power lines leaving more than 250,000 homes and businesses across the Northeast without power. School and business closures and delayed openings were common across the region affected by the harsh winter storm.
The NWS warned of possible injuries or health problems due to the storm.
"Please be mindful of the increased danger for injuries and heart attacks when shoveling heavy-wet snow," warned the NWS.
More than 2,000 flights were cancelled across various airports in the region and another 6,000 were delayed. Hundreds of vehicle crashes were reported in New Hampshire alone, according to CNN.
In response to the travel dangers, New York Gov. Kathy Hochul requested residents to "continue to avoid unnecessary travel so plows and emergency personnel can do their jobs."