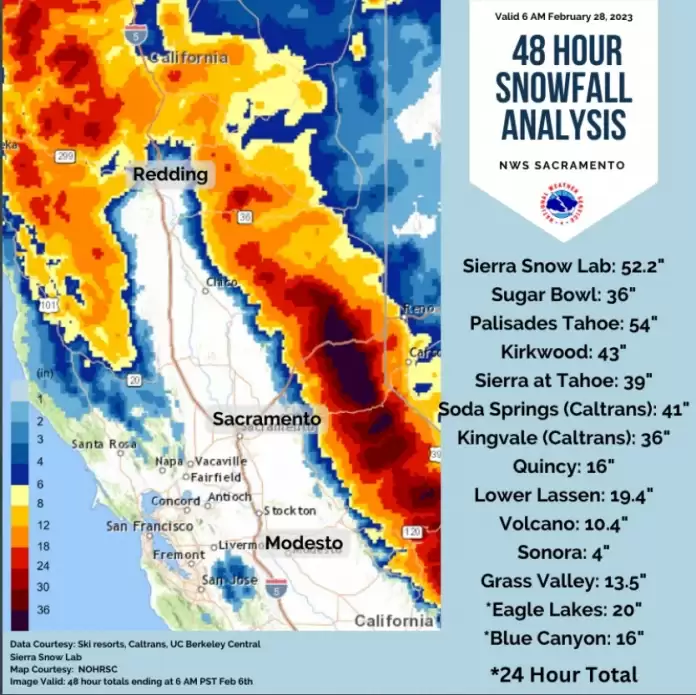 Heading into spring, California's snowpack is well above its normal depth for the year as a result of repeated winter storms delivering below normal temperatures and heavy snow across the state.
As KTLA 5 reports:
New data shows California's already epic snowpack, not surprisingly, has improved even more thanks to last week's winter storm that buried the Sierra Nevada mountain range under several additional feet of snow.
As of Monday [February 27], California's snow water equivalent was 181% of average for Feb. 27 and 156% of a full season's average, according to the California Department of Water Resources.
From North to South, the Sierra mountain chain has well above average snow depths on the ground, reports KTLA, writing "[t]he Northern Sierra/Trinity region's snowpack is 144% of the average, Central Sierra is 185%, and the Southern Sierra mountains, 219%."
Combined with previous winter storms which also delivered heavy snow and rain, the latest heavy snow event pushed several California regions out of drought conditions.
It was not just the California's mountain peaks that received snow during winter storm Olive, however.
The National Weather Service issued its first Blizzard warning since 1985 for Los Angeles. Even relatively low lying San Bernadino received heavy snow, with up to 3 feet of snow piling up on some places, resulting in residents being trapped and the county declaring a state of emergency.
"Quite a remarkable storm the last few days with historic amounts of snow down to elevations that rarely see it," the National Weather Service said, commenting on Olive's impact in California, reports Electroverse.
Conditions were so bad on Interstate Highway 5 due to ice, that parts of it were closed on February 26.
During Olive's peak, more than 200,000 residences lost power as a result of downed powerlines from ice and wind.
In addition, the Central Sierra Snow Lab (CSSL) recorded 52.2″ of snow in 48-hours. Many other locations got large amounts of snow.
Here are the snow totals across the Sierra in the last 48-hours.
– Sierra Snow Lab: 52.2″
– Sugar Bowl: 36″
– Palisades Tahoe: 54″
– Kirkwood: 43″
– Sierra at Tahoe: 39″
– Soda Springs: 41″
– Kingvale: 36″
– Quincy: 16″
– Lower Lassen: 19.4″
– Volcano: 10.4″
– Sonora: 4″
– Grass Valley: 13.5″
This pushes the snowpack at CSSL well above normal as seen in the graph below.