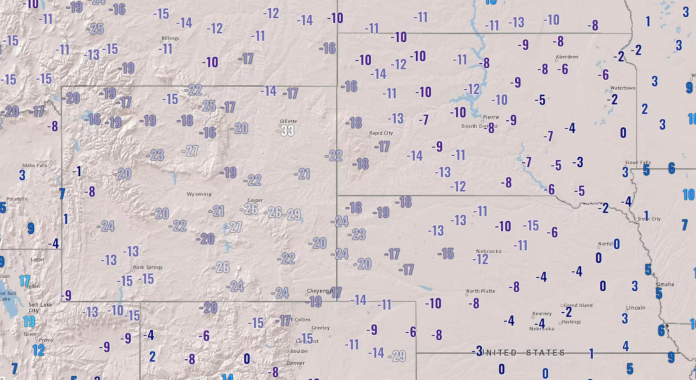 The Washington Post reported that dozens of cold temperature records have been set in the Western United States after a recent winter storm "Olive" and its cold front rolled though.
The Post writes:
Lyman, in the southwest reaches of Wyoming, dipped to minus-35 for the coldest reading of the outbreak. It bookended a gradient from high to low of 137 degrees across the contiguous United States on Thursday.
Much of the coldest weather of the event was centered in and around the High Plains and northern Rockies, but the West Coast also saw some unusual morning chill.
Among other locations the National Weather Service listed as setting new or tying old cold temperature records are:
The Washington Post also reported:
Many more record low maximums were set, especially on the West Coast, where a cold storm system has been taunting the region. More cold records are expected here through the weekend. Below, some from Thursday.
Denver topped out at 7 degrees, beating the old record of 10 degrees.
Alta, Utah, reached only 9 degrees, beating the old record of 11 degrees.
Hastings, Neb., climbed to 13 degrees, tying the record for the date.
Spokane, Wash., saw a maximum temperature of 16 degrees, besting a record of 19 degrees.
Anaheim, Calif., home of Disneyland, managed only 57 degrees. It was one of many lowest maximum records across Southern California, including the Big Bear ski resort at 23 degrees.