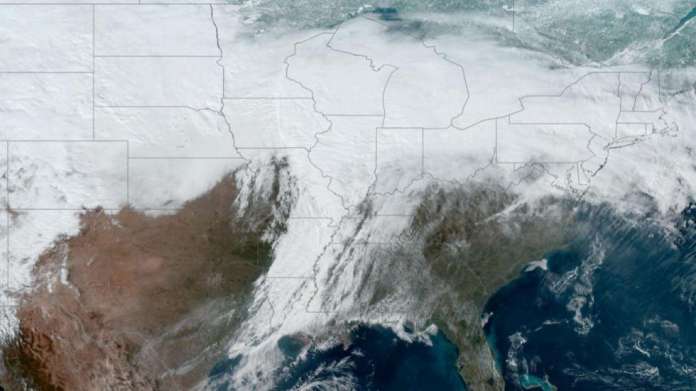 Image above: Winter Storm Olive was a cross-country storm that deposited heavy snow from the Northwest and Rockies to the Great Lakes and New England, and dropped thick ice across the southern Great Lakes.
AccuWeather, Weather Underground, and Weather.com all reported on the impact that winter storm Olive has had in the northern tier of the U.S. Midwest from North Dakota through Michigan and beyond.
The National Weather service issued Winter Storm and Blizzard Warnings for areas including parts of North and South Dakota, Minnesota, Wisconsin, Iowa, and Michigan.
As was aptly recorded in videos on AccuWeather, downtown Minneapolis and its surrounding neighborhoods were buried in snow on February 23, leaving the streets empty and the city eerily quiet. More than 1,200 flights were cancelled from the Minneapolis-St. Paul International Airport over two days and many highways and roads were closed for extended periods of time during Olive. Thousands of more flights were cancelled or delayed at international airports in Denver, Chicago, and Detroit.
Olive's fierce nature also resulted in interstate highways being closed in North and South Dakota, and "no travel" advisories being issued for portions of the two states. In Iowa, the weather conditions were so bad the state Department of Transportation even pulled its snowplows off the roads.
In Wisconsin, where more than 45,000 homes and businesses suffered power outages, Gov. Tony Evers issued an energy emergency declaration allowing state to ramp up reserve electric power sources, increase the output at operating power plants, and to call up emergency power restoration personnel and resources.
Snow, ice, and high winds combined to knock out power for more than 900,000 homes and businesses across the upper Midwest. Michigan residents were hit the hardest by outages with more than 650,000 thousand customers being left without power for extended periods of time as more than three-quarters of an inch of ice combined with high winds to bring down tree branches and power lines.
"DTE, one of Michigan's largest power providers, said early Thursday morning [at a February 23 press briefing] that the ice storm that had hit the region produced levels of ice accumulations that they hadn't seen in ['nearly 50 years'] and said that there was an 'extreme amount of damage' to power infrastructure there," reported Weather.com.