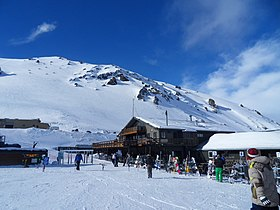 Radio New Zealand (RNZ) reported ski slopes were open and topped with fresh snow on Mt. Hutt in Canterbury in late-February as summer headed toward its end. See the webcam image above from March 1, 2023.
More than 1,000 people enjoyed unseasonable summer skiing, atop the heavy late February snowpack. Ski resort manager, James Mckenzie told RNZ that it was the first time in five years he had seen this much snow in summer.
"To get this amount of snow in February weather – 30 centimetres of snow on Wednesday and Thursday, which was enough to get us out skiing and riding today, which is amazing," said Mckenzie.
Newshub interviewed a number of the visitors to Mt. Hutt writing, "[a] woman skiing said 'it's sort of made my summer really,' while another snowboarder said: 'It's amazing being probably the only people in the Southern Hemisphere who are skiing right now. It's just crazy, absolutely crazy.'"