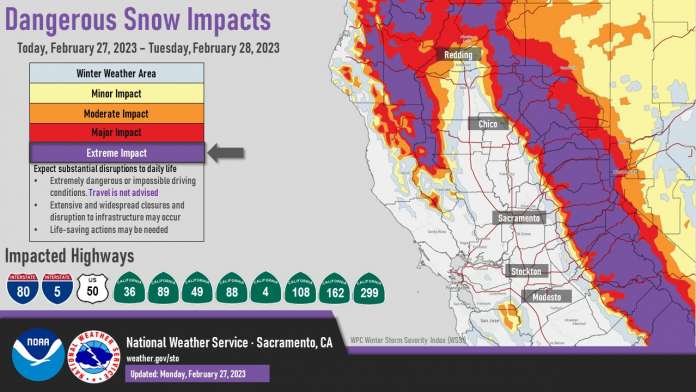 A massive winter storm that swept across a large portion of the United States delivered huge amounts of snow to California, and not just in the mountains, reports CNN.
The National Weather Service recorded 78 inches of snow falling in Mountain High, California, 60 inches of snow in Snow Valley, 57 inches to Bear Mountain Snow Summit, 50 to 55 inches to Wrightwood Acorn Canyon, 45 inches to Green Valley Lake, 38 inches to Mount Baldy, and 36 inches to Lake Arrowhead.
Even elevations as low as 1,000 feet above sea level experienced snowfall during the event, reports NPR.
The winter storm resulted in the NWS issuing a blizzard warning for parts of Southern California, an extremely rare event, where ice and snow made travel conditions hazardous, resulting in some roads and state highways being closed.
Lynda Sandoval a resident of Frazier Park, approximately 65 miles northwest of Los Angeles told CNN that she and her husband had be unable to leave their home since Friday. CNN quoted Sandoval saying:
I never have seen this much snow living up here. Neighbors that have been here longer than us said the last snow related to this was back in 2011 but not this severe. It took over 4 hours to get our truck out yesterday and all our neighbors are shoveling snow whenever there is a break. The community up here is amazing with neighbors helping neighbors during this time. They're sharing groceries and shoveling snow in driveways.
As seen in the graphic, even more snow is forecast this week.