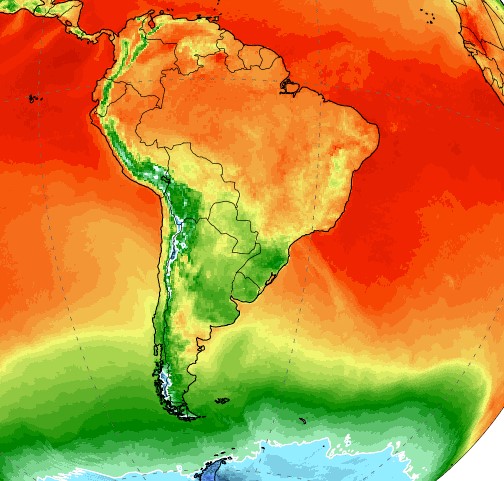 Until recently Argentina has been among the few South American countries to be experiencing a hot summer, setting records for heat for some dates in February. That changed quickly on February 15, when "an almost polar wave unprecedented for this time of the year," plunged temperatures across the country, setting new February low temperature records for some locations.
Reporting on the sharp shift from hot to cold temperatures Barron's wrote, "A cold front from Patagonia caused temperatures in Buenos Aires to drop from a high of 38.1 C (100.6 degrees Fahrenheit) last Sunday to only 7.9C (46.2F) on Thursday — a record low for the month of February since 1951, the National Meteorological Service reported."
Buenos Aires, however, was not the only Argentine city feeling the chill. Ushuaia in the Tierra Del Fuego region reported a daytime high temperature of just 4.7℃ on February 15, its lowest ever daytime high for the month of February. Rio Grande, also in the Tierra Del Fuego region, also reported unusually cold temperatures for the date. During Tierra Del Fuego cold spell, it experienced its first snowfall for 2023, and freezing rain and ice fell at Ushuaia.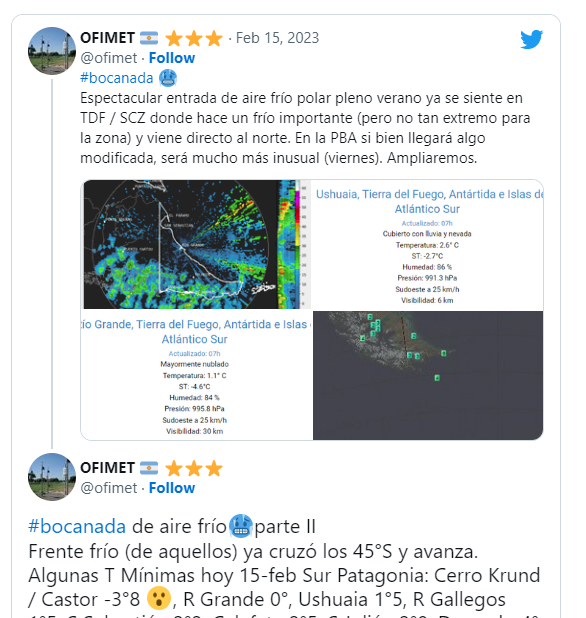 The Clarin Society reported beachgoers abandoned the beach at Las Grutas, a popular beach resort in Río Negro, when temperatures dropped to 15.4°C on February 15.
"Further south, in Trelew, Chubut, the thermometer started with a wintery 8° C and we had to rediscover the blankets and blankets," said the Clarin Society.