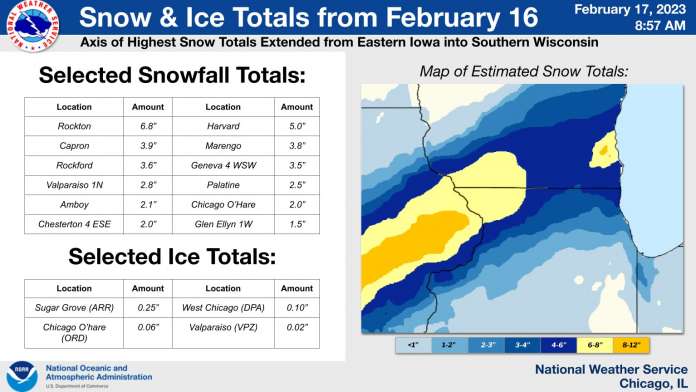 A significant snow and ice weather event has passed through Wisconsin, Illinois, and now northern Indiana. The National Weather Service in Chicago Tweeted several reports:
In addition to the slippery roads in NW Indiana due to ongoing snow, secondary roads and elevated surfaces may be slick from yesterday's freezing rain and snow especially if untreated. Be sure to use caution when driving this morning!
Here's a look at 24-hour snowfall and ice totals (note: see feature graphic above) across the area from 2/16/2023. The axis of heaviest snow extended from eastern IA into southern WI. Note the map is estimated and may differ slightly from what is in your backyard. Thanks to all who submitted reports!
Full listings of snow and ice reports are available here:
Snow: https://nwschat.weather.gov/p.php?pid=202302171452-KLOT-NOUS43-PNSLOT…
Ice: https://nwschat.weather.gov/p.php?pid=202302171453-KLOT-NOUS43-PNSLOT…
Reports from the NWS offices in Milwaukee and Des Moines were also indicative of the storm's snow and ice making along its path: