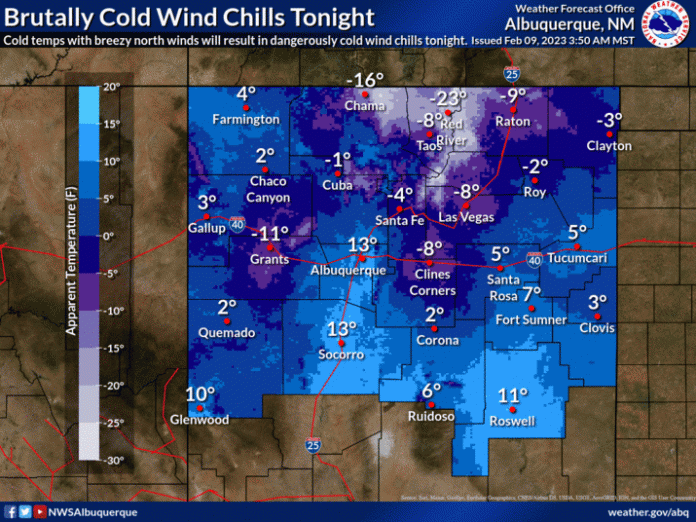 The National Weather Service in Albuquerque, NM reports that winter weather is impacting much of Northern New Mexico bringing snow and colder than normal temperatures. They note:
A quick-hitting weather system will bring light snow to parts of northeast and east central NM today. Snow which developed near the CO border early this morning will spread south through the day. Visibility may be reduced below one mile at times in the heavier activity with blowing snow from Raton Pass toward Clayton. One to 2 inches of snow may also impact I-40 from Clines Corners to the TX border.
…
Much colder with gusty northwest to north winds. Light snow and blowing snow possible northeast and east central NM. Light snow accumulations over the Sangre de Cristo mountains.
…
Today's gusty winds will diminish tonight allowing low temperatures to plummet below zero over the northern mountains and into the single digits and teens elsewhere. Wind chill values will fall as low as 20 to 30 degrees below zero across the northern mountains with single digits to teens over the remainder of the forecast area. Bundle up in layers if heading outdoors.
The unseasonably cold weather today will come to an end with a warming trend Friday into Sunday. Additional storm systems are expected early to mid-next week.