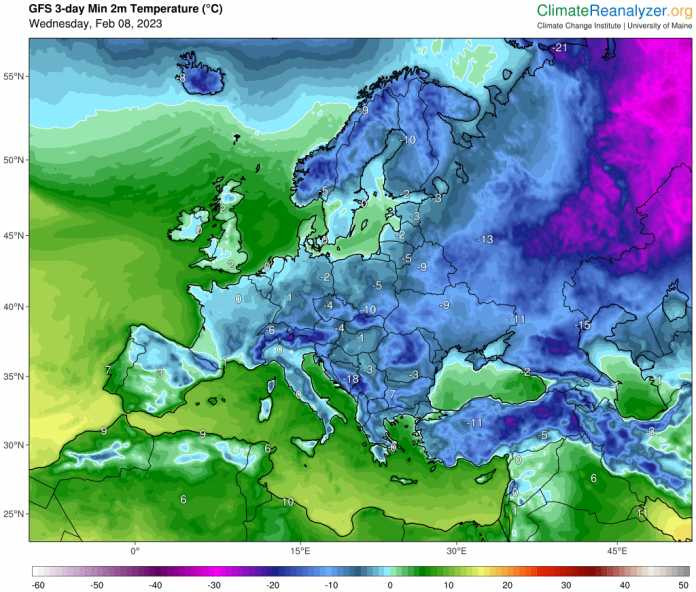 The Guardian Met Desk reports that "…parts of Europe such as the Balkans, Greece, and Turkey will plunge into a cold spell this week, with temperatures forecast to fall 10-15C below the seasonal average.
According to various online meteorological sources, the minimum temperatures will likely bottom out between -10°C and -20°C (14°F to -4°F) in the area. The forecast map above shows frigid temperatures as low as -18°C (-0.4°F).
Sadly, earthquake ravaged Turkey will be seriously affected. According to The Guardian report, it will be "…hit with strong winds and heavy snowfall too, with maximum snowfall accumulations of more than a metre across the Pontic Mountains in the north of the country during the first part of this week. Turkish Airlines has already cancelled 240 domestic and international flights out of Istanbul airport to prepare for the incoming cold weather."
With 11,000 already dead, extreme cold is hampering recovery efforts. PBS reports that some have already died due to the cold, and others may die due to lack of shelter and heat.
The cold also made life miserable for those who lost their homes. Many survivors in Turkey have had to sleep in cars, outside or in government shelters.
"We don't have a tent, we don't have a heating stove, we don't have anything. Our children are in bad shape. We are all getting wet under the rain and our kids are out in the cold," Aysan Kurt, 27, said. "We did not die from hunger or the earthquake, but we will die freezing from the cold."
The extreme cold is even hampering recovery efforts, according to PBS who spoke with Ozel Pikal, a journalist taking part in the recovery efforts, who said he believed many of the victims froze to death trapped in the rubble as temperatures fell to minus 6 degrees Celsius (21 Fahrenheit), overnight.
"Our hands cannot pick up anything because of the cold," Pikal said. "Work machines are needed."