Mount Washington in New Hampshire is often referred to by meteorologists as the "Home of the World's Worst Weather." The temperatures and wind chills that registered there resulting from a polar vortex that struck the Northeastern United States over the weekend is an example of why. As CNN described the situation:
A life-threatening cold spell began to ease its grip on the northeastern United States on Saturday, but only after a new national windchill record was set in New Hampshire.
The record was set at Mount Washington Friday night when it felt like minus 108° F thanks to a temperature of minus 46° F and wind gusts of 127 mph.
Wind chill records are not historically tracked as closely as temperature records, but the mark would beat what most meteorologists believe to be the US record (minus 105° F in Alaska). The prior record for Mount Washington was minus 102.7° F in 2004.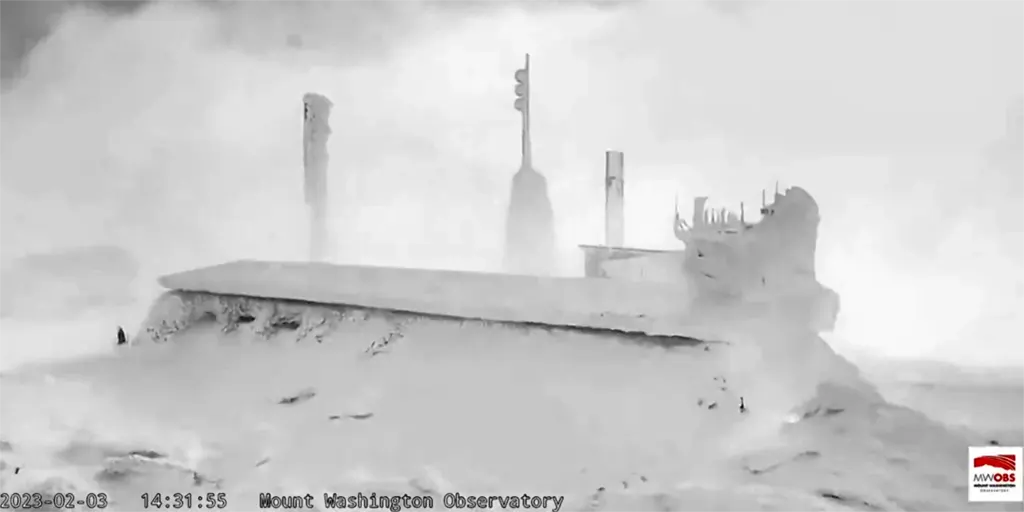 AccuWeather put Mount Washington's wind-chill record in galactic context, writing:
The polar vortex paid a visit to New England and sent temperatures to record-shattering levels Friday into Saturday. One remote location [Mount Washington, New Hampshire] faced weather conditions so extreme that it looked and felt otherworldly, with an AccuWeather RealFeel® Temperature dipping to record low levels and rivaling conditions on Mars.
Mount Washington was not the only location in New England and the broader northeastern United States to break low temperature records during the weekend's arctic blast.
Boston set low temperature records on consecutive days. Boston's temperature fell to -8℉ near midnight on February 3, the coldest temperature ever recorded on that date, breaking the old record of -5℉ set in 1881. A few hours after midnight, a new record cold temperature was set for Boston for February 4 when temperatures fell to -10℉, breaking that date's previous record low of two degrees below zero, set in 1886. This was the first double digit below zero temperature measurement recorded in Boston for any date since 1957. When the fierce blowing winds were accounted for, AccuWeather reports the "RealFeel®" temperature reach -45℉, for a time.
CNN reported that new low temperature records were set in a number of other states and locations, as well:
Worcester, Massachusetts, hit minus 13 degrees beating the previous daily record of minus 4. Providence, Rhode Island, recorded minus 9 degrees beating the previous daily record of minus 2. Hartford, Connecticut, hit minus 9 degrees, beating the previous daily record of minus 8.
Maine's residents faced blizzard conditions over the weekend with wind chills in some locations measured at 69 degrees below zero. This came amid an extended period of rough winter weather for the state, which had been battered by repeated snow storms in the previous two weeks.
New York City also experienced record setting lows for February 4, according to the New York Post, which reported:
John F. Kennedy Airport in Queens reached a frigid record low for the date of 4 degrees, breaking the old mark set in 1996, Fox Weather Meteorologist Christopher Tate said Saturday. Newark Airport and LaGuardia Airport in Queens both logged lows of 5 degrees, also breaking previous lows recorded in 1996 of 7 degrees and 10 degrees, respectively.
At one point in time, on Saturday morning, more than 15 million people were under National Weather service "Wind Chill Alert(s)."
Ski resorts in New Hampshire and Vermont closed over the weekend out of caution, due to the extremely cold temperatures, for the safety of the skiers.