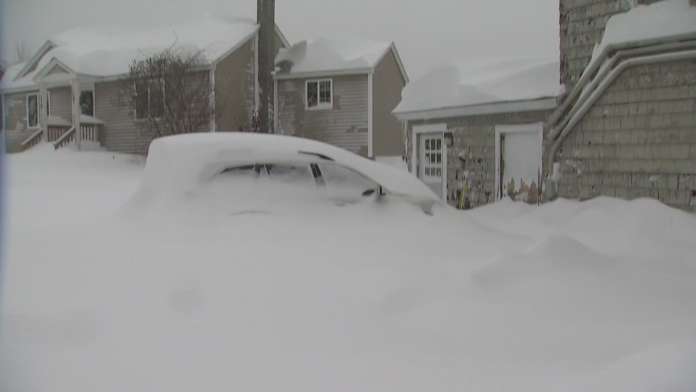 In the wake of back to back to back winter weather events, each dropping heavy, wet, snow, news reports indicate numerous buildings across the state are having their roofs collapse.
Spectrum News reports snow caused the collapse of two domes over sports facilities in the state.
The Mahaney Dome, an indoor practice facility at the University of Maine's football, soccer, baseball, softball, and field hockey teams, had its dome roof collapse under heavy snow on January 26. No injuries were reported from the Orono facility's collapse.
In Topsham, the Dome at Coastal Maine Storm also collapsed.
"Our old Dome came down early this morning due to snow and then rain," according to a post the on the sports facility's website. "Sorry to say that it looks to be irreparable. Working on assessing things now."
That facility was reportedly used by a number of local soccer, football, field hockey, and lacrosse teams.
Elsewhere in Maine, a number of businesses in Scarborough were evacuated, over concerns of potential roofs collapsing. WMTW News reported:
Evacuations after concerns of a potential roof collapse shutting down several businesses.
Officials said it was just after 10 a.m. Thursday when a 911 call came into Scarborough police dispatch from the Super Walmart store.
[T]he Scarborough Sam's Club, which is under the same ownership as Walmart, was also evacuated as a precaution while the roof there was inspected [by the city's Fire Marshall].
In Union, Maine a livestock barn collapsed after a third round of snowfall hit the area, killing five cows and trapping others, according to CentralMaine.com.
"The collapse [of a barn on Green Meadow Farm] was one of several — including one in neighboring Washington — reported across Maine as buildings buckled under the weight of water-saturated snow," reported CentralMaine.com.
Local farmers and contractors assisted the Union fire department in excavating the barn, rescuing as many as thirty animals and removing the deceased livestock.