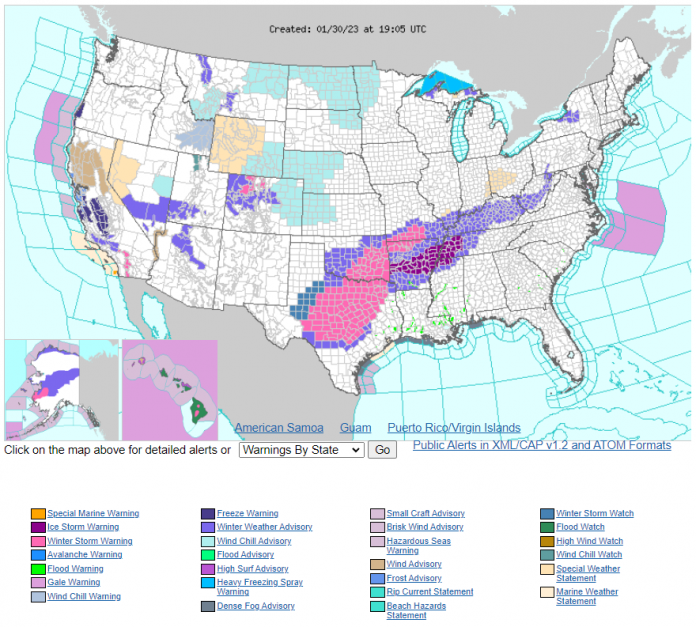 The National Weather Service (NWS) warned of the impacts of a large, strong winter storm forecast to bring well below average temperatures and deliver heavy snow and ice across a large swath of the United States.
"The storm initially brought snow to western and central Montana and parts of Wyoming before extending into the Northern Plains," wrote USA Today, reporting on the storm.
The NWS said a large part of the country could experience wind chills well below zero, with Grand Forks, North Dakota, for example, expecting wind chills of -39℉. Snowfall could exceed two feet in parts of Montana, North Dakota, and other areas in the Northern Plains and along the Great Lakes.
Over the weekend, white out conditions and icy roads resulted in an 85 vehicle pileup on Interstate Highways 39 and 90, outside of Janesville, Wisconsin, reported the Milwaukee Journal Sentinel. The accident came as snow was falling at rates of one-quarter to one-half inch an hour, which reduced visibility to less than a half-mile or less. The accident resulted in 21 people being taken to area hospitals for treatment of non-life-threatening injuries.
The NWS warned that more snow was on the way, with accumulations of six to 10 inches expected in Ozaukee, Milwaukee, Racine, Kenosha, Walworth, and Rock counties, and three to seven inches common across southern Wisconsin. Wind chills could dip below -20℉ through January 31.
The same winter storm delivered below freezing temperatures as far south as Austin, Texas, with ABC News reporting that the NWS issued winter storm and ice warnings for Dallas and Austin. The NWS said parts of north and central Texas could expect as much as half an inch of freezing rain to accumulate on lawns and roads through Wednesday, making travel treacherous.
Nor are other southern states expected to be spared the dangerous winter mix of cold temperatures, ice, and snow.
"The ice will stretch from Texas to Oklahoma City to Little Rock, Arkansas; Memphis, Tennessee; and most of Kentucky," says ABC News. "An ice storm warning is in effect for Memphis."