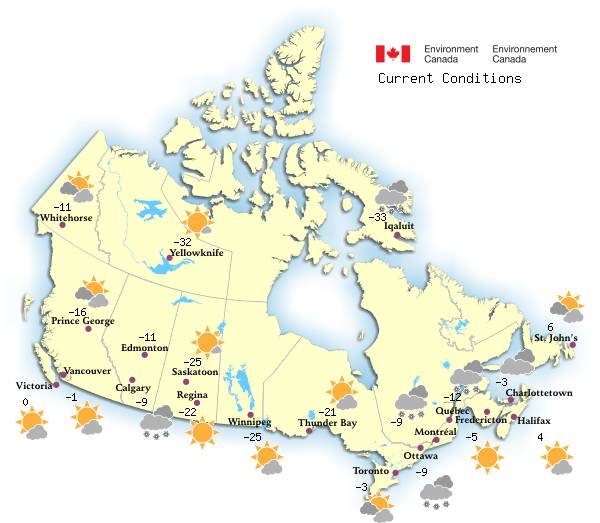 Environment and Climate Change Canada (ECCC) issued cold weather warnings for a number of communities in Manitoba over the weekend. ECCC is warning residents of Winnipeg and the surrounding region to prepare for the extremely cold temperatures to last for the next few days.
A polar vortex centered near Baffin Island is lingering over a large swath of Canada.
The ECCC issued extreme cold advisories for southern regions from Brandon and Steinbach, stretching into the north, from Churchill to Thompson, warning wind chills could reach -40℃ for parts of southern Manitoba and southeast Saskatchewan.
"As extreme cold weather brings wind chill values nearing -40°C, it's impacting everything from winter recreation to the city's most vulnerable population," writes Winnipeg CTV News.
January 28 was the opening day for Winnipeg's A Maze in Corn's 25th annual snow maze, but the extremely cold temperatures, -27°C in the daytime, have resulted in its hours of operation being shortened, said Angie Masse co-owner of the maze.
"That cold air has come down from the north in over the last 24-36 hours and going to sit over us for the next few days," Eric Dykes, a meteorologist with ECCC, told Winnipeg CTV News. "Normal highs for this time of year, for example, are -11°C and normal lows around -22°C and our daytime high are going to struggle to get to what should be overnight lows for us for this time of year."
Dykes warned that the city's poor and homeless are especially vulnerable to the extremely cold temperatures.
"Some of the people who are most vulnerable in the city right now don't have the resources or even the proper clothing to be out in weather like this," said Kevin Walker, the interim director of the Bear Clan Patrol, a volunteer aboriginal organization that helps provide security and aid the underserved people in Winnipeg's inner-city.
Winnipeg CTV News reported that the Bear Clan's mobile unit patrolled over the weekend, delivering hot food and clothing, which Walker said, was in short supply. Walker requested people visit its drop-off locations to donate winter weather wear.
Feature image from Environment Canada.