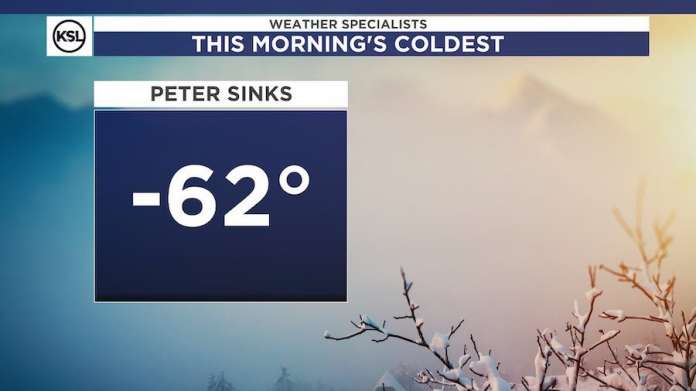 KSL-TV in Salt Lake City reports, "[a] blast of arctic air brought sub-zero temperatures to parts of northern Utah, with Peter Sinks being named the coldest place in the contiguous United States on Monday."
"The wind chill dropped temperatures in the Cache County sinkhole to -62 degrees by 8 a.m. — tied for the coldest temperature in Utah in 21 years," continued KSL-TV.
According to Wikipedia, such cold temperatures are not unknown to the area:
On Feb. 1, 1985, the temperature at Peter Sinks plummeted to -69.3°F — the second coldest temperature ever recorded in the lower 48 states.
…
Peter Sinks, sitting at an elevation of 8,164 feet, is a natural limestone sinkhole approximately one-half mile wide in diameter and has no valley outlet (referred to as dolines geologically) to drain water or air. It is one of the coldest spots in the lower 48.
During calm cloudless nights, this high elevation basin dissipates daytime heat rapidly into the atmosphere. Cool dense air can then slide downwards towards the basin floor in a process known as cold air pooling. Consequently, extremely low temperatures can occur, particularly in the wake of arctic fronts in winter.