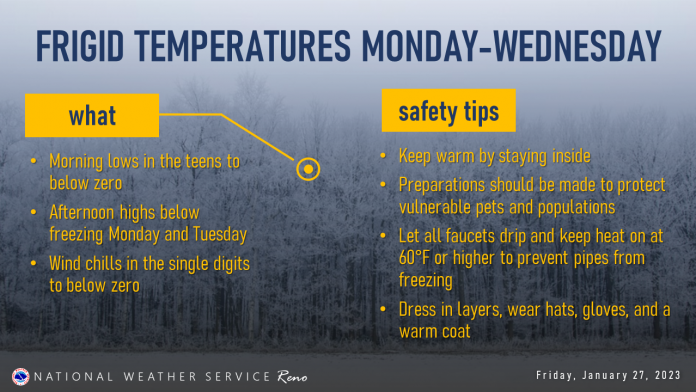 Unseasonably cold weather is expected in California's Sierra Nevada mountain range along with much of Western Nevada Monday through Wednesday.
The San Francisco Chronicle, via their website, SF Gate, reports:
Dangerously frigid conditions are expected throughout the Tahoe region on Sunday and Monday night, with temperatures plunging into the single digits in western Nevada and as low as minus 20 in Bridgeport and Bodie, California.
"Overnight lows Monday and Tuesday morning are expected to be the coldest the area has seen in five to 10 years," Zach Colby, a meteorologist for the National Weather Service's (NWS) office in Reno, Nevada, told SFGATE. "We're definitely concerned about vulnerable populations and pets and the possibility of freezing pipes."
Nearby, Reno, NV is expected to get some very cold weather. An official statement from the NWS in Reno said:
Frigid temperatures will settle into the region Monday through Wednesday. Morning lows will be in the teens to below zero, with afternoon highs below freezing Monday and Tuesday.
Wind chills will be downright cold in the single digits to below zero. Keep warm by staying inside. Preparations should be made to protect vulnerable pets and populations. Let all faucets drip and keep heat on at 60°F or higher to prevent pipes from freezing. Dress in layers, wear hats, gloves, and a warm coat.