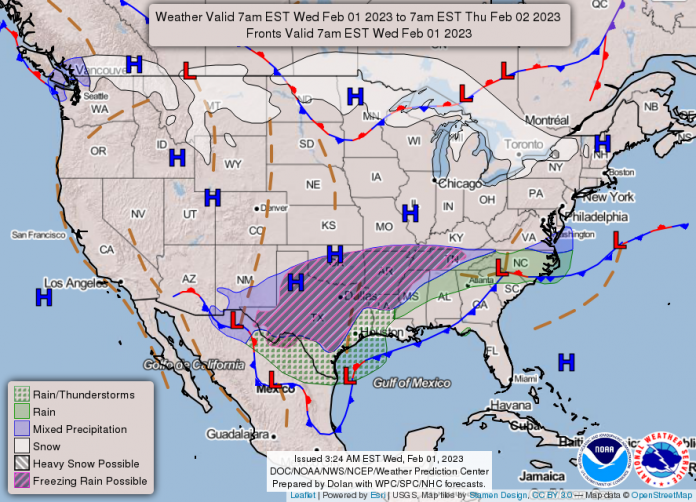 Frigid weather and icy roads have caused hundreds of accidents across the United States, from Colorado to south Texas, and Arkansas through Tennessee, reports AccuWeather. The same winter storm front has resulted in thousands of flights being cancelled and in delays for thousands of others.
AccuWeather describes the situation as a "travel nightmare."
Sleet and freezing rain have accumulated over the course of three days, most heavily around the Dallas/Fort Worth metropolitan area.
"Through Monday afternoon, over 100 crashes were reported in the Dallas-Fort Worth area, according to MedStar emergency management services in Fort Worth," writes AccuWeather. "Of the crashes, 11 of them were categorized as rollovers, and 25 patients were transported to area hospitals."
Numerous highways in and around Dallas and Fort Worth were closed for varying periods of time to allow emergency vehicles to access accidents, to remove the injured, and to clear damaged vehicles.
Highways were also closed in Colorado and Arkansas as a result of accidents. At least one accident, outside of Avoca, Arkansas, resulted in a fatality when a flatbed truck rolled over on the highway killing the driver.
Freezing rain and sleet has fallen in areas from Luckenbach, Texas to Table Rock, Missouri, with accumulations topping 1.5 inches in some locations.
Although both DFW Airport and Love Field, remained open, "air travel was … heavily impacted," noted AccuWeather. Through Wednesday morning thousands of flights have been cancelled or delayed due to the icy weather. Flights into and out of airports in Austin and Memphis have been impacted by the harsh winter conditions, as well.